Will they restore the lake on their own?
Lakefront property owners know they can make a difference through their actions.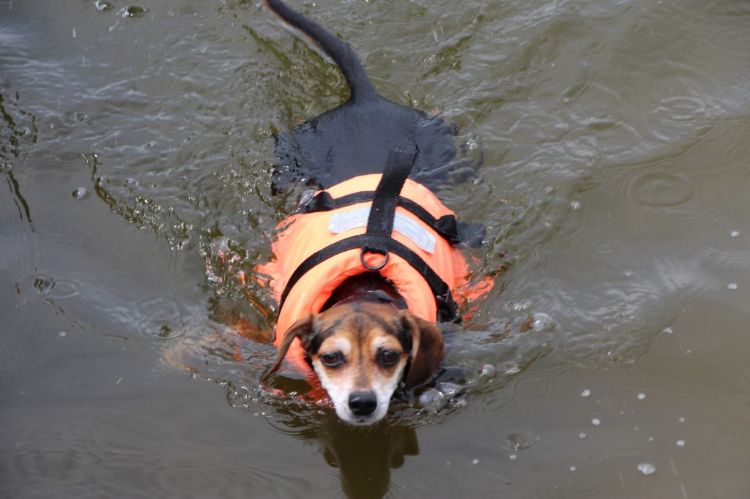 Twenty-four lakefront homeowners turned out to Baker College Welcome Center on September 21 to hear what they can do to improve their lake. This was the highest turnout for the Lake Association in recent memory according to participants. An electronic survey conducted during the program showed that attendees came in with high levels of knowledge and a strong sense that their actions can make a difference for the lake.
Lake Manitou is a private, 73-acre impoundment in Shiawassee County. Like many other inland lakes, homeowners are assessed an annual fee used for lake management. Most of the funds typically go to chemical treatments of nuisance algae and weeds. Lake Association manager, Fred Farkas has been working diligently for several years to lower the amount of chemicals needed by improving ecosystem functions. While residents are hopeful that fewer chemicals might make for a healthier lake, reversing 56 years of chemical treatment is resulting in greater numbers of observed algae and aquatic plants.
Last month the lake turned a serious turn for the worse. Algae turned the entire lake green. Farkas took complaints from concerned homeowners. Many worry that management is out of balance; perhaps more chemicals are needed once again to combat the algae and weeds.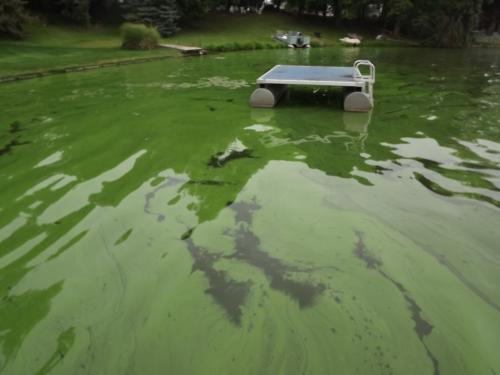 Chemical treatment can lessen some of the symptoms of a sick lake temporarily, but for long-term wellness residents will be well served by finding ways that they can help strengthen the whole ecosystem. Currently, there are few properties with natural vegetation growing at the lakeshore, an important buffer for the lake. Several years ago residents considered, but did not adopt a proposal to install a sewer system which has been effective for helping to restore other lakes such as Gull Lake.
Solving the problem of excessive algae requires considering more than just what happens in the lake itself because this lake is impacted by its drainage basin. Compared to natural lakes, impoundments (lakes created from dammed rivers and streams) pose added challenges. One, the natural processes afforded by free-flowing rivers, have been halted. Two, the water entering the lake comes brings an ever changing commixture, depending on what rain and other water carries off the land as it runs off and through the land draining to the reservoir. Still, lakefront property owners do have some control over the quality of their lake's ecosystem.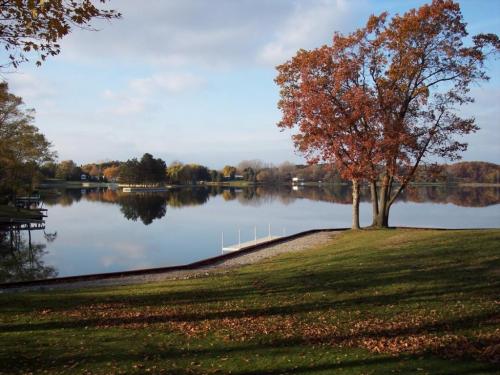 Homeowners attending the program expressed an interest in learning more about the role they can play beyond paying for chemical treatments. Two actions in particular can reduce phosphorus inputs from lakeshore lands: regular septic system maintenance and restoring natural shorelines. Natural shorelines replace a strip of mowed lawn at the lakeshore with native, deep rooted plants. Natural shorelines improve lake health because they filter runoff, secure banks from erosion, provide wildlife habitat which in turn supports the aquatic life that consumes and processes nutrients.
Farkas partnered with Monica Day, MSU Extension Water Resources Educator to conduct the program. He wanted to share with other landowners some of the things he'd learned through attending several Michigan State University Extension training opportunities including: Michigan Lake and Stream Leaders Institute, Septic System Maintenance Workshop, and Protecting Your Shoreline Workshop for Homeowners.