Youth foster coastal tourism opportunities in northeast Michigan (Part 2)
Northeast Michigan communities leverage place-based education strategies to engage local schools and students as valued partners in advancing coastal tourism and community development opportunities.
Northeast Michigan is rich in coastal resources—from natural resources to maritime history to cultural resources. Communities often recognize the value of these resources and use them to promote values resource stewardship. Communities also attempt to leverage these coastal assets to enhance community and economic development opportunities. Sustainable coastal tourism development opportunities may offer communities a path to promote and protect their local resources while realizing the economic opportunities in these coastal gems. How are schools and youth a partner in realizing this future?
In part 1 of this article series, we explored how youth in Northeast Michigan are learning through applied place-based education str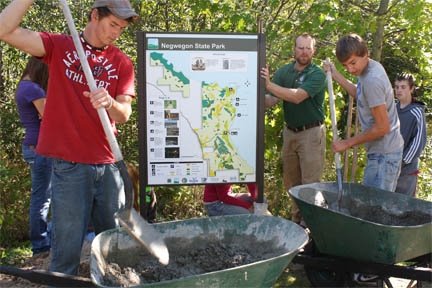 ategies and serving as valued partners in developing just such coastal tourism development opportunities within their communities. Community and economic development, tourism marketing, and resource management organizations and agencies have much to gain through these partnerships with schools and youth. Place-based education offers a framework by which communities can better partner with schools in accomplishing their resource stewardship and community development goals. The Northeast Michigan Great Lakes Stewardship Initiative (NE MI GLSI) network emphasizes and supports strong school and community partnerships; and through this network, community partners demonstrate many ways in which organizations and communities can position themselves to benefit from place-based education partnerships with schools.
Community and economic development partners explore sustainable coastal ecotourism opportunities in Northeast Michigan through recent research reports by Michigan State University Center for Community and Economic Development, as well as the Northeast Michigan Council of Governments. Similarly, an earlier Michigan Sea Grant integrated assessment and research report in Northeast Michigan considers coastal tourism as a strategy of promoting and protecting coastal natural and cultural resources, while growing local communities and economies through these resources. This assessment outlines place-based education as a strategy for working with local schools and youth in developing sustainable coastal tourism opportunities. Michigan Sea Grant's guide to Sustainable Coastal Tourism Development in Northeast Michigan documents a case study illustrating how Northeast Michigan youth, through the NE MI GLSI network, are currently realizing this vision within the region.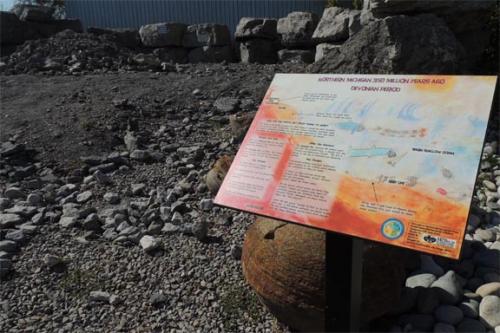 Resource management agencies, such as the NOAA Thunder Bay National Marine Sanctuary, identify education and youth engagement as a strategy for promoting and protecting maritime heritage artifacts of Northern Lake Huron. Michigan Department of Natural Resources park management plans for coastal Negwegon-Rockport-Thompson's Harbor (NRTH) State Park properties identify education, community involvement, and coastal tourism development as strategies in support of resource stewardship and management objectives, "encouraging youth development in utilizing NRTH properties as outdoor classrooms, while partnering with youth in contributing to management and stewardship efforts through their learning." Statewide, Michigan State Parks & Outdoor Recreation Blue Ribbon Panel cites engagement of youth through place-based learning with Michigan's natural, cultural and historic resources as an opportunity for, "people to experience these resources, which creates a sense of ownership and builds individual responsibility and community capacity for managing them."
Coastal tourism partners boast several coastal trail systems such as the Huron Blueways and Greenways recreational trail systems, Maritime Heritage Tourism and U.S. 23 Heritage Route. These regional efforts seek to enhance way finding, interpretation, education and tourism around coastal resources. Earlier (Part 1) we ill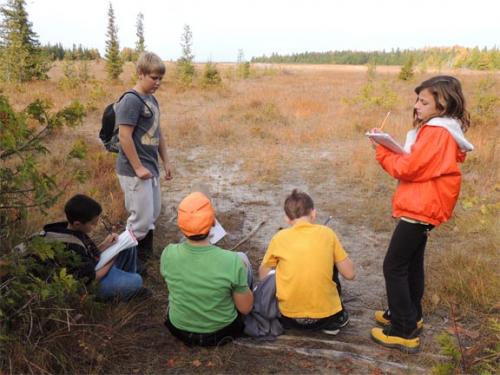 ustrated remarkable examples of how youth are helping to accomplish these tourism interpretive goals, such as geology interpretive signs completed through elementary Earth Science studies, rare species profiles written during middle school English class, and ecotourism signage developed as part of high school environmental science class. Looking forward, the U.S. 23 Heritage Route, a regional six-county coastal tourism partnership, has secured funding through the Michigan Coastal Management Program to support a video and smart phone project promoting coastal tourism – a project that will involve schools and youth as partners.
These school and community partnerships, through place-based education, exemplify opportunities and benefits of engaging community youth as valued contributors in promoting stewardship and sustainable coastal tourism opportunities. In trade, youth gain valuable hands-on learning experiences – supported by their community and the resource agencies charged with managing these resources. A winning value for all involved.
For more information about place-based education and these youth-led coastal tourism education projects and partnerships facilitated through the Northeast Michigan Great Lakes Stewardship (NE MI GLSI) network, visit the NE MI GLSI website and learn about these Projects in Action. This network is partner to the statewide Great Lakes Stewardship Initiative with funding from the Great Lakes Fishery Trust.