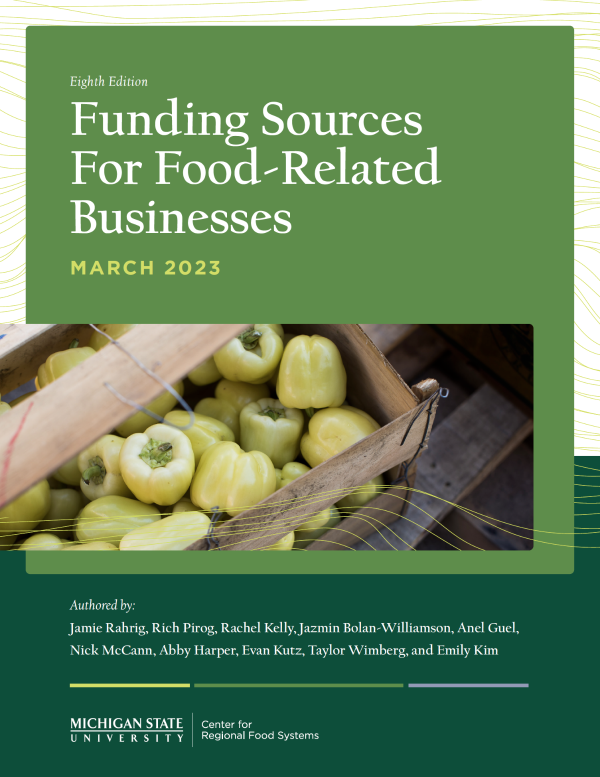 Funding Sources for Food-Related Businesses, Eighth Edition
DOWNLOAD
March 21, 2023 - Author: Jamie Rahrig, Rich Pirog, Jazmin Bolan-Williamson, Rachel Kelly, Anel Guel, Nick McCann, Abigail Harper, Evan Kutz, Taylor Wimberg, Emily Kim
The eighth edition of this directory provides an overview of various financing sources available to food-related businesses in Michigan and across the United States.
The directory includes sources of national and local finance opportunities that may be available to farmers, food producers, distributors, food hubs, and other food-related businesses.
The directory is a partial listing of what may be available across the United States; some examples may not be a good match with your particular circumstances. Initially informed by a list of funding resources for food-related businesses found on the Food+Tech Connect website, a media and research company building a network for food innovators and entrepreneurs, it has been made available by the MSU Center for Regional Food Systems to help support local food systems.
The directory is divided into four types of funding sources:
Crowdfunding
Start-up accelerator
Miscellaneous
Michigan and federal government resources
For each funding entity included, details are provided to help guide your decisions: description, funding focus, funding limit, qualifications, geographical region of focus, and website.
At the end of the list of funding entities, a selection of resources on writing grant and loan applications is provided. Writing a robust, effective grant and/or loan application can help you successfully obtain the funding you need for your business. Look to the tips provided as you determine which type funding source is right for your business.
Suggested Citation
Rahrig, J., Pirog, R., Kelly, R., Bolan-Williamson, J., Guel, A., McCann, N., Harper, A., Kutz, E., Wimberg, T., & Kim, E. (2022). Funding sources for food-related businesses (8th ed.) Michigan State University Center for Regional Food Systems. https://foodsystems.msu.edu/resources/food_business_funding_sources