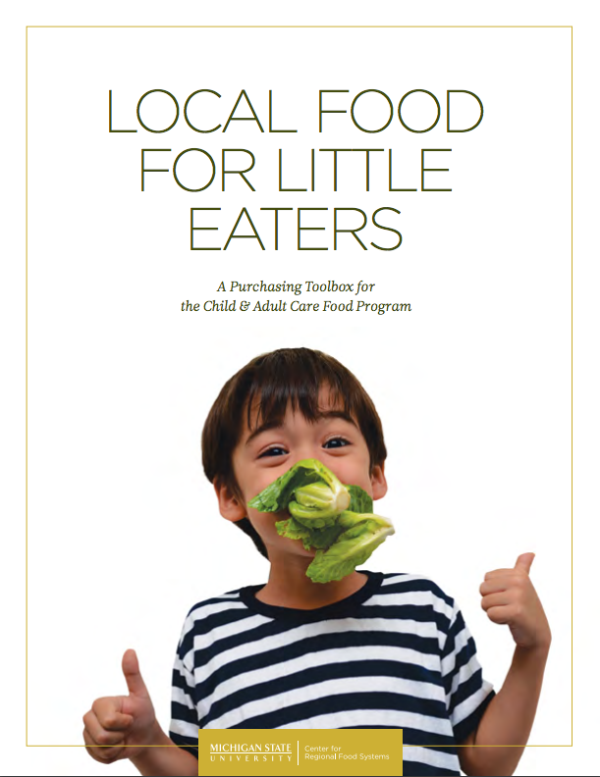 Local Food for Little Eaters: A Purchasing Toolbox for the Child and Adult Care Food Program
DOWNLOAD
June 8, 2017 - Author: Abby Harper, Colleen Matts
Local food purchasing is one component of farm to early care and education (ECE), which also includes on-site gardens and food, nutrition, and agriculture education. This procurement toolbox is designed to help early childhood programs purchase local food.
The tools included provide step-by-step instructions for purchasing from a variety of local food sources and provide highlights from successful early childhood local purchasing initiatives throughout the country. These tools can be used together as a set or individually depending upon program goals.
Overviews of purchasing local food for early childhood programs and how federal Child and Adult Care Food Program (CACFP) funding can support these efforts are also included.
This guide was updated in February 2021 and January 2022 to account for adjustments to federal purchasing thresholds.
---
This guide is meant to complement Farm to Early Childhood Programs: A Step-By-Step Guide. Once you are ready to start the process of local purchasing, the Farm to Early Childhood Programs Guide can walk you through the steps and provide the tools necessary to make local food purchasing a sustainable part of your programming.