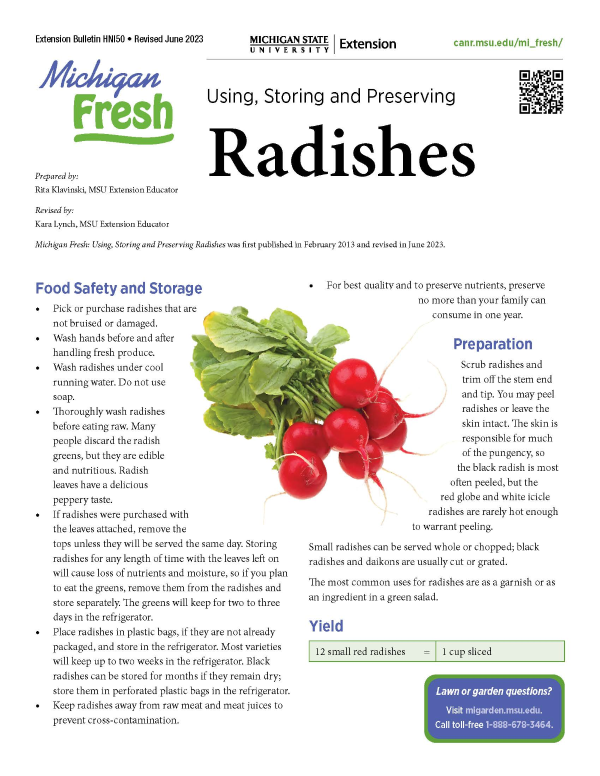 Michigan Fresh: Using, Storing, and Preserving Radishes (HNI50)
DOWNLOAD
August 3, 2023 - Author: Rita Klavinski and Kara Lynch, Michigan State University Extension
Food Safety and Storage
Pick or purchase radishes that are not bruised or damaged.
Wash hands before and after handling fresh produce.
Wash radishes under cool running Do not use soap.
Thoroughly wash radishes before eating Many people discard the radish greens, but they are edible and nutritious. Radish leaves have a delicious peppery taste.
If radishes were purchased with the leaves attached, remove the
tops unless they will be served the same day. Storing radishes for any length of time with the leaves left on will cause loss of nutrients and moisture, so if you plan to eat the greens, remove them from the radishes and store separately. The greens will keep for two to three days in the refrigerator.
Place radishes in plastic bags, if they are not already packaged, and store in the refrigerator. Most varieties will keep up to two weeks in the refrigerator. Black radishes can be stored for months if they remain dry; store them in perforated plastic bags in the refrigerator.
Keep radishes away from raw meat and meat juices to prevent cross-contamination.
For best quality and to preserve nutrients, preserve no more than your family can consume in one year.
Preparation
Scrub radishes and trim off the stem end and tip. You may peel radishes or leave the skin intact. The skin is responsible for much of the pungency, so the black radish is most often peeled, but the red globe and white icicle radishes are rarely hot enough to warrant peeling.
Small radishes can be served whole or chopped; black radishes and daikons are usually cut or grated.
The most common uses for radishes are as a garnish or as an ingredient in a green salad.
Yield
| | |
| --- | --- |
| 12 small red radishes = | 1 cup sliced |
How to Preserve
Michigan State University Extension does not recommend preserving radishes including canning and also freezing, because of their high water content.
References
More information