Why Attend?
Top Ten Reasons to Attend This Camp
Have fun in the great outdoors doing camp activities such as fishing, boating, swimming, hiking and having a campfire!
Learn about and enjoy Great Lakes ecology and Michigan's diverse natural resources.
Explore natural resources management issues and what you can do to help.
Find out about careers related to the Great Lakes and natural resources.
Learn from Michigan State University faculty, MSU Extension program staff and others who are also natural resources experts.
Discover environmental education projects that you can do at home.
Make new friends from across the state and learn about where they are from.
Enjoy a chance to be independent from your family in a safe, friendly environment.
Learn new ideas, skills and techniques you can use for the rest of your life.
Develop your leadership abilities.
More Opportunities for Returning Campers
If you're a returning camper, you'll be able to participate in the "regular" camp activities, plus these extras:
Take a night hike.
Try out advanced scientific techniques.
Take on extra leadership roles.
Be amazed as you notice things you may have missed or didn't have time to participate in when you attended camp last time.
Strengthen your skills and qualifications to become a camp counselor in future years.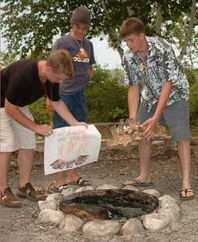 How Camp Helps in School
The educational experiences at camp help prepare, reinforce and enrich what youth have already studied and will study at school in the future as established by the Michigan Department of Education. Through a variety of camp sessions, youth will explore a number of discipline specific ideas and participate in the process of science through the integration of Science and Engineering Practices that address Michigan's new science standards.
4-H has a long history of preparing youth for careers and college. GLNR Camp, in collaboration with partners across the state, is engaging youth in the practices identified in Michigan that create a common understanding of what students should be able to do at the completion of High School.
To learn more, visit Career and College Ready Michigan.
http://www.michigan.gov/documents/mde/CCS_Standards_417951_7.pdf
MSU Pre-College Scholarship Opportunity
Campers who enter eighth, ninth or tenth grades following their involvement are eligible for nomination to apply for a $2000 MSU Pre-College Achievement Scholarship. Campers will be invited to apply based on criteria such as attitude, behavior and active participation. The funds will be applied toward the first year at MSU as a degree-seeking student. For more information, visit the 4-H Scholarships area of this site.