Curious how much milk the average dairy cow produces each day?
Dairying has come a long way since every family had a cow or two! If you want to be part of the dairy industry of the future, you have to prepare yourself for all phases of dairy technology. In a 4-H dairy cattle project, you'll explore the technology related to the production, manufacturing and marketing of dairy products, and learn about scientific dairy research and related agribusinesses.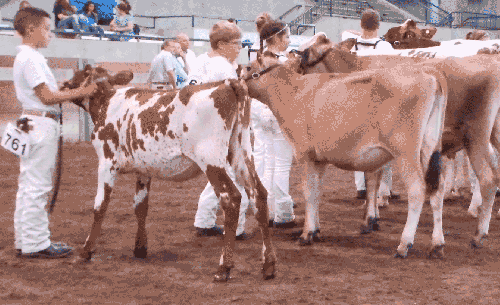 Agriculture is a big player in Michigan's economy and future prosperity—and dairy is an important part of agriculture. Working on 4-H dairy projects could do more than get you a ribbon at the county fair. It could give you a start on a great career!
Contact
For more information on how to get involved as a youth or volunteer, contact your county MSU Extension office or,
Melissa Elischer, 4-H Dairy Educator
Email: elischer@anr.msu.edu
Phone: (517) 432-4306
MSU Department of Animal Science
Web: http://www.ans.msu.edu/
News
Published on January 11, 2018

Introducing the Youth for the Quality Care of Animals Program
Published on January 10, 2018

"What Do Cows Eat? Deconstructing Dairy Cow Diets" lesson helps youth explore what a total mixed ration is using human food items.
Published on December 12, 2017

Learn more about dairy animals around the world, starting with sheep.
Published on December 12, 2017

Cold weather is here. Being prepared and utilizing these tips and techniques will help your livestock stay healthy and comfortable throughout winter.
Published on December 4, 2017

The Feed Critters lesson is designed to help participants creatively compare human food and animal feedstuffs while exploring careers related to animal nutrition.