Curious how much milk the average dairy cow produces each day?
Dairying has come a long way since every family had a cow or two! If you want to be part of the dairy industry of the future, you have to prepare yourself for all phases of dairy technology. In a 4-H dairy cattle project, you'll explore the technology related to the production, manufacturing and marketing of dairy products, and learn about scientific dairy research and related agribusinesses.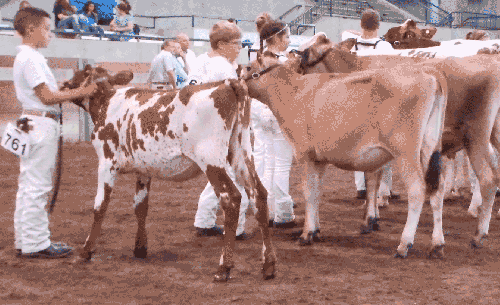 Agriculture is a big player in Michigan's economy and future prosperity—and dairy is an important part of agriculture. Working on 4-H dairy projects could do more than get you a ribbon at the county fair. It could give you a start on a great career!
Contact
For more information on how to get involved as a youth or volunteer, contact your county MSU Extension office or,
Melissa Elischer, 4-H Dairy Educator
Email: elischer@anr.msu.edu
Phone: (517) 432-4306
MSU Department of Animal Science
Web: http://www.ans.msu.edu/
News
Published on August 21, 2018

Senior team from Michigan's Clinton County advances to national contest in November.
Published on August 20, 2018

Teams from Michigan's Isabella, Branch and Lapeer counties take top honors during 4-H Youth Dairy Days.
Published on May 17, 2018

Biosecurity related to 4-H projects is a matter of high priority. Taking simple precautions will protect animals, members and consumers.
Published on May 16, 2018

The Great Dairy Adventure is a free, family-friendly event where visitors can learn about the Michigan dairy industry and enjoy dairy-related activities and food.
Published on May 14, 2018

Learn about milk marketing, co-operatives and a different side of dairy through the 4-H/Michigan Milk Producers Association Milk Marketing Tour held June 27-28.