BHEARD scholars study ways to help Liberia's inland fisheries
The combination of training agricultural scholars and working with their home institutions on capacity development projects is a unique feature of the BHEARD program.
August 7, 2017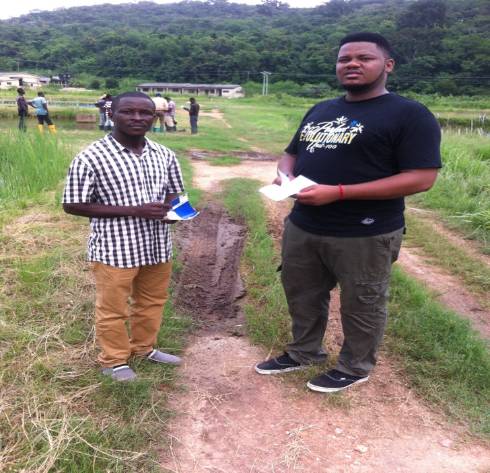 Scholars Samuel Mulbah and Mandela Klon-Yan Hinneh are working to improve Liberia's inland fisheries. Enrolled in the Borlaug Higher Education for Agricultural Research and Development (BHEARD) program, both were recently awarded M.Phil. degrees in fisheries at the University of Ghana.
The goal of BHEARD, supported by the U.S. Agency for International Development (USAID), is to develop agricultural scientists and increase agricultural research capacity in partner countries. The program is named after Dr. Norman Borlaug, an American biologist, humanitarian and Nobel laureate who has been called "the father of the Green Revolution."
Mulbah, a research officer with Liberia's Central Agricultural Research Institute (CARI), wants to advise farmers on preventing and controlling parasitic diseases in fish and maintaining good water quality in their ponds.
As part of his research, Mulbah investigated the prevalence of parasites in the Nile tilapia (Oreochromis niloticus) fish species. He conducted studies at fish farms in three districts in Bong County: Farm A at Gbarnga, Farm B at Warta and Farm C at CARI.
Thirty samples of tilapia were collected once a month from each of the farms, from September 2016 through February 2017. Fish samples were preserved in an ice chest and transported to a laboratory at Cuttington University in Suakoko, Liberia, where their length and weight were measured. Dissolved oxygen and water temperature were measured in the field, while pH, ammonia, nitrite and nitrate were measured in the lab at two-week intervals using a multi-parameter probe.
Fish parasites belonging to seven groups were isolated from the O. niloticus cultured in the three fish farms. The parasitic groups were protozoans, monogeneans, digeneans, cestodes, hirudineans, nematodes and crustaceans. A higher number of parasites were obtained from Farm B, and the least number from Farm C. There were more protozoans, monogeneans and digeneans than the rest of the parasitic groups. The group with the lowest representation was the hirudineans, only found in Farm A. Protozoans dominated in Farm A, digeneans in Farm B and crustaceans in Farm C.
Results showed that though the cultured Nile tilapia were physiologically sound, there was a slight inverse relationship with the rate of parasitic infestation. They also showed that the fish grew increasingly slender as their length increased.
To further their studies, Mulbah and Hinneh, pictured above, recently attended a training program at Ghana's Aquaculture Research and Development Center. Hinneh's objective in attending the training was to acquire hands-on knowledge of basic aquaculture practices to back up his theoretical knowledge, and to use that knowledge to help Liberian fish farmers commercialize production. Based on what he learned, Hinneh made the following recommendations:
A modern hatchery needs to be constructed to address the shortage of fingerlings (small, young fish) on the Liberian market.
Promote the production of male fish by teaching fingerling growers how to prepare hormonal feed.
Provide more training on pond management.
Introduce cages to Liberian farmers to increase the yield of fresh-water fish.
Import broodstock from Ghana, which has some of the best in Africa in terms of growth performance. This will help Liberia get rid of the old strains that have stunted growth.
The combination of training agricultural scholars and working with their home institutions on capacity development projects is a unique feature of the BHEARD program. BHEARD selects candidates for scholarships from specific research institutions in their home countries, such as CARI in Liberia. The students' research topics are approved by the home institution and USAID mission in the country.
While studying for their degrees, the students also work with a mentor from their home institution. Their research project is conducted in their home country, and their academic advisor from their university visits them in their home country during their research. The purpose of this visit is twofold: to assist the students with any challenges that arise during their research, and to establish collaborative partnerships and activities between the home and host institutions.
Mulbah and Hinneh have returned to CARI, where they will play an important role in strengthening the fisheries program. With an institutional capacity building grant from BHEARD, CARI will undertake a needs assessment of its fisheries program (and perhaps some additional programs as well) in September. Following the identification of major needs, program activities will begin. BHEARD is proud of the leadership role its two graduates will take in the program.
– Matt Milkovich