Chris Henderson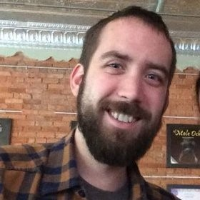 ---
Location:
32 Natural Resources
Major Advisor: Shawn Riley
Hometown: Iowa
Biography: I am working with Shawn Riley in the Gore-Riley Lab. My background is kind of all over the place; I am originally from Iowa and moved to Montana to do my undergraduate in Resource Conservation and Ecology at the University of Montana. After graduating, I spent time there working seasonally as an Ecological Restoration Specialist on a 8,400-acre property in the Bitterroot Valley that used to be a working ranch and is now a conservation and wildlife research preserve. I did my Master's degree at Michigan Tech in Houghton in Environmental and Energy Policy. My research assistantship introduced me to using social science approaches to studying human-wildlife interactions and related policy and governance issues. We assessed almost 20 years of data from the MDNR hunting license sales database to investigate demographic patterns in the Michigan hunting participation over time, as well as how declines in participation might affect state wildlife agencies and their ability to continue administering public resources under current funding regimes that depend on hunting and angling license sales for a big chunk of revenue. I am continuing with the human dimensions focus for my Ph.D. to dig deeper into the social forces operating at different scales that influence stakeholder participation in wildlife-related recreation (hunting, fishing, and others) and develop some policy recommendations and programmatic interventions that (we hope) may increase engagement and support for conservation among various groups. On the personal side of things, in what little spare time I have, I like to hike with my fiancée, Amanda, and our dog Coltrane. I run a nature photography business and try to get out as much as possible to shoot. I also dabble as a musician (I play drums and guitar).