Emily Dean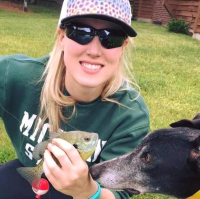 ---
Location:
13 Natural Resources
Major Advisor: Dana Infante
Biography: Emily is a native Michigander. She was born in Holland with a strong Dutch heritage, and spent her teen years in Grand Haven. Growing up on Lake Michigan shaped her current interests, which include fishing, hiking, swimming, and boating. She completed her Bachelors of Science at Grand Valley State University where she majored in Biology and minored in Chemistry, and enjoyed life as a college athlete playing water polo and rugby. She also completed her Masters of Science in Aquatic Biology at GVSU, where she focused on stream bioenergetics, specifically on the influence of salmonid spawning on stream food webs in western Michigan coastal streams. She is currently a Ph.D student working with Dr. Dana Infante and the Aquatic Landscape Ecology lab at Michigan State University. Her current research interest is how landscape factors affect fluvial systems and the fish that inhabit them.