Laura A. Reese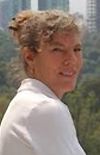 reesela@msu.edu
Telephone: (517) 353-5942

School of Planning, Design and Construction
Professor, Urban & Regional Planning; Director, MSU Global Urban Studies Program
---
Location:
Berkey Hall, 509 E Circle Dr, Room 447
Area of Expertise:
Research Interests: Urban politics and public policy, economic development, animal welfare policy, and local governance and management.
---
Degree:
PhD in political science and MPA from Wayne State University, a bachelors in political science from the University of Michigan-Dearborn.
---
CV:
File Download
Affiliated Programs/Initiatives/Projects: Global Urban Studies Program
Laura A. Reese is a professor of Urban & Regional Planning at MSU, and director of the Global Urban Studies Program (GUSP). She joined the faculty at MSU in the Fall of 2005 as founding director of GUSP, a research and doctoral initiative focusing on urban affairs and public policy, globalization and urban areas, and comparative urban studies. Previously, Reese was a member of the graduate Urban Planning faculty at Wayne State University after teaching in the Master of Public Administration Program in the Department of Political Science at Eastern Michigan University. Her main research and teaching areas are urban politics and public policy, economic development, and local governance and management in both Canada and the U.S. Dr. Reese has conducted large-scale evaluations for the Economic Development Administration, U.S. Department of Commerce. Her research on sub-state economic development programs includes Tax Increment Finance Authorities and Industrial Tax Abatements. Reese has written several books and numerous articles in these areas, as well as public personnel administration focusing on implementation of sexual harassment policy.