CANCELED: 4-H Exploration Days
June 24-26, 2020
Michigan State University
On April 2, 2020, Michigan State University made the decision to modify or suspend youth events scheduled to take place this summer on MSU's campus. This, combined with the suspension of in-person K-12 instruction for the remainder of the academic year, informed changes to scheduled MSU Extension youth programming. As a result, all on-campus MSU youth events scheduled to occur before September 1, 2020 will be modified to an online space, postponed or canceled. In addition, no face-to-face MSU Extension youth events or programs will take place anywhere in the state until September 1, 2020. This was a heartbreaking decision for MSU Extension to make but is a reflection of our ongoing commitment to youth safety and security, a guiding principle of Michigan 4-H, and the right thing to do to protect the health and well being of MSU Extension staff, volunteers, program participants and all Michiganders.
This decision impacts the 2020 4-H Exploration Days. 4-H Exploration Days will be canceled and not move to an online format. All program participants will receive a full refund for any out-of-pocket event registration fees. This may take a few weeks and we appreciate your patience with this process.
MSU Extension remains committed to delivering meaningful experiences to youth through supplemental education offerings that support the educational development of Michigan youth.
---
What's it like?
There'll be more than 200 session choices held on and off campus. You'll choose one or two for your three-day stay.
You'll live in a Michigan State University dorm and eat in the cafeteria—just like MSU students do.
Sessions are taught by people who know their stuff, including MSU faculty members, 4-H volunteers and staff members and other experts.
It's not all sessions! There's plenty of time for fun, including the Planetarium, skating, souvenir shopping, exploring, the Dairy Store, tour of the MSU Horse Barn, basketball—even a great dance Thursday night.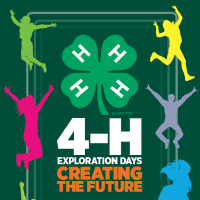 Use this book to pick your sessions for 4-H Exploration Days.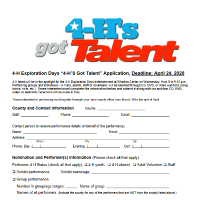 4-H talent will be in the spotlight for the 4-H Exploration Days entertainment at Wharton Center on Wednesday night. Complete this application to be considered for the show!
Explore Sessions
Explore what's waiting for you at 4-H Exploration Days!
4-H Exploration Days
---
For more information, contact: