American Citizen Planner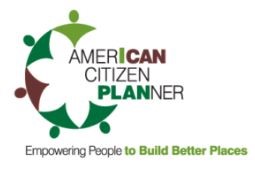 American Citizen Planner (ACP) teaches Extension professionals, local officials, citizen advocates, non-profit groups, government agencies and the general public about positive land use decisions for their communities regarding zoning regulation, best practices for planning and zoning and sustainable community planning. It is designed for those who are interested in the basic concepts of public land use and development regulation and in the best practices of community development and smart growth.
Participants who complete both the ACP 101 and ACP 201 courses can take the ACP Exam to earn the Master Citizen Planner (MCP) accreditation. The MCP credentialing program was developed as a benchmark for education among elected and appointed officials and citizen volunteers. Attaining the credential demonstrates a working knowledge of the skills necessary to guide community development. Visit the American Citizen Planner Program website for more information about how ACP can benefit you and your community.
Michigan State University Extension is pleased to announce a new, online Planning Commissioner Training series in partnership with Planetizen Courses that builds on the pioneering American Citizen Planner Program. Throughout the series, citizen planners can expand their knowledge on a number of subjects vital to effective, efficient planning practices that include establishing a strong ethical and legal framework, coverage of steps in the planning and zoning processes, tools used by professional planners to make land use decisions and much more.
For a limited time, a year-long subscription to the series is being offered by Planetizen Courses for $199 before pricing increases to $349. Additional course information and pricing is available by visiting the Planetizen website at courses.planetizen.com/planning-commissioner-training.
Contact for More Information
Senior Specialist, Urban & Regional Planning; Co-Coordinator, Urban Resilient Redevelopment Graduate Certificate Program
School of Planning, Design and Construction
beyea@msu.edu
517-432-7600
Michigan Citizen Planner
Michigan State University Extension also offers the Michigan-specific MSU Extension Citizen Planner program for those interested in learning the same concepts taught in the ACP program, but in a localized context.
The Michigan Citizen Planner program is offered in a variety of ways, including:
Face-to-face in a classroom
Videoconferencing
Online Course
The convenient self-paced online course is called Citizen Planner Online. Visit the Michigan Citizen Planner Program website to learn more about the program and find program events near you.
Contact for More Information