Industry Priorities
Where is the chestnut industry going and how will it get there? The future of chestnut as we all know is a moving target combining the accumulating knowledge of growers in four areas: A. Germplasm and planting stock; B. Horticultural care and orchard management; C. Harvest, storage and quality control; and, D. Marketing. These four knowledge areas require regular visitation by growers if they are to be growing the highest quality chestnuts for their particular markets. To approach these issues, the Midwest Nut Producers Council in concert with Michigan State University and the University of Missouri Center for Agroforestry sponsored the Midwest Chestnut Farm Conference in Clark Lake, Michigan a couple of miles from the new MSU Rogers Reserve Endowed Research Farm.
The research farm is the center of activity for chestnut research in Michigan. On the weekend of August 21 and 22, Forty-five growers, researchers, and extension educators met to discuss a list of priorities set up earlier in the year by Michigan chestnut growers. At this meeting, Michigan State University and University of Missouri researchers told the audience what they are attempting to discover in terms of the list of priorities and requested feed back from those present. Eleven researchers, two extension educators, and four graduate students presented their current research programs on chestnut including: Prof. Mike Gold (MU) covered the Missouri chestnut research program including marketing, grower surveys, and cultivars; Prof. Dan Guyer and graduate student Irwin Donis-Gonzalez (MSU) covered Chestnut harvest and quality enhancement technology; Prof. Jeanne Romaro-Severson (U. Notre Dame) covered the complex issue of chestnut genetics and cultivars; Graduate student Carmen Medina-Mora (MSU) covered chestnut pollination; Prof. Michele Warmund (MU) covered secondary bur production, budding and cultivar performance; Assoc. Prof. Andrew Jarosz (MSU) covered chestnut blight and the biological control called hypovirulence; Assist. Prof Jianjun Hao and two graduate students Lucy Lu and Howard Liu (MSU) covered research of a special nature on by-products found in chestnut shells; Assist. Prof. Eva Almenar (MSU) studies on chestnut packaging; Assist. Prof. Brent Ross (MSU) is surveying growers on the bottom line in terms of making money on chestnut farms; Extension educator Mira Danilovich (MSU Extension) on developing spray calendars and extension communications; Prof. Dennis Fulbright (MSU) on chestnut quality and an unexplained kernel rot; and Extension educator Phil Tocco (MSU Extension) on good agricultural practices as they apply to the current and future industry.
In addition, special guest Wayne Lovelace and Kim Young from Forrest Keeling Nursery spoke on the RPM rooting system patented by Forrest Keeling and the program they are setting up with Michigan State University for chestnut germplasm production for the Midwest. It was a busy two days.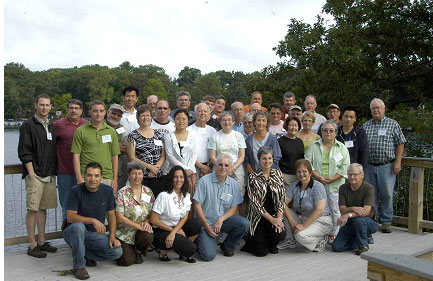 Some of the participants, including researchers and growers, at the two-day Midwest Chestnut Farm Conference, August 21-22, 2010, Clark Lake, Michigan.
Chestnut Industry Research and Education Priorities, 2010-2015
Chestnut Research and Education Steering Committee of the Midwest Nut Producers Council
February 2, 2010 (Adopted August 22, 2010)
Over the last 12 years the chestnut industry in the United States has made outstanding gains in reviving the culinary use of chestnuts. This is largely due to passionate faculty, highly motivated growers, and the financial support of the United States Department of Agriculture and the Michigan Agricultural Experiment Station. The "table to tree" model of research has helped us focus clearly and efficiently on attainable research and education goals that have mostly been met. Now, as the industry continues to move ahead in terms of production, profitability, and sustainability, growers have come together to articulate the needs of the industry to take the industry to the next level.
On January 31, 2010 a group of chestnut growers met to begin the process of formulating the next research and education goals for the next several years. What follows are the priorities in pest management, orchard management/factors extrinsic to the chestnut tree itself, germplasm development and availability/factors intrinsic to the chestnut tree itself, chestnut harvest, storage, and quality maintenance. Each category is narrated in brief below:
Priorities for chestnut quality, harvest, storage and marketing
Once a chestnut tree is successfully grown, nuts are pollenized and grown to maturity, the issues of nut quality, harvest, storage, and marketing become paramount.
Lead priority for chestnut quality, harvest, storage, and marketing:
1. Establish USDA standards and grading for chestnuts to optimize ability to sell to larger customers. This process was initiated ten years ago but needs to be completed. This is the highest priority in this area as the ability to sell fresh market chestnuts to grocery stores is seriously limited by lack of standards.
Other critical, high priority needs:
2. Plant Pathology scientists at Michigan State University have identified an internal nut rot problem. The cause is unknown, but potato leaf hopper is suspected. The pathogen or conditions causing this internal rot problem need to become known and strategies developed for managing the problem.
3. Mechanical harvesting is rapidly becoming a limiting parameter in nut quality, as chestnuts need to be refrigerated immediately after harvest. Mechanical harvesters need to be evaluated and developed to provide economical options for scale of the farm.
4. Gains have been made in post harvest handling and storage, but losses of 15-25% of crop while stored have necessitated including research into how to safely store fresh chestnuts to extend the selling season into February or March. This includes both on farm storage, storage prior to sale, and product storage in retail or restaurants.
5. Processing of chestnuts, both as a peeled product and value-added products made from peeled product need to be developed and evaluated.
6. Chestnut growers believe that developing a system to track nuts from orchard to product sold needs to be developed as the fresh food industry is all moving in that direction.
Priorities for the economics of the Michigan chestnut industry
Crucial to the success of any entrepreneurial venture or nascent industry is its economic viability. To determine the potential economic viability of the Michigan Chestnut Industry, stakeholders are committed to improving their knowledge of the availability of markets for chestnuts, the drivers of consumer demand, the dynamics of competition in the industry as well as the costs of production, processing and marketing their chestnuts products. This knowledge is key to developing strategies to improve the profitability of, and create a competitive advantage for, Michigan producers in this industry.
Lead priority for the economics of the Michigan chestnut industry:
1. Develop capital budgets for a range of different chestnut enterprises, including chestnut orchards, and the chestnut processing and marketing facilities. This task is crucial for improving stakeholders' access to the knowledge that they need to make effective production and marketing decisions.
Other critical, high priority needs:
2. Complete a structural analysis of the U.S. and global chestnut industry to provide stakeholders with knowledge about the key players, alternative supply chains, as well as the competitive dynamics of the industry.
3. Conduct a value chain analysis to assist stakeholders in identifying opportunities for creating value and a competitive advantage for Michigan chestnuts through cost reduction and/or differentiation of their chestnut products or services.
4. Survey consumers of chestnut products, including both individual and institutional customers. Knowledge of consumer demand including preferences for product, pricing, promotion and distribution are key to developing an effective marketing plan for Michigan chestnuts.
5. Examine the benefits and costs of improving chestnut quality in Michigan.
6. Conduct a study of the challenges facing the Michigan chestnut industry with respect to industry coordination.
Priorities for germplasm
One area limiting the growth of the chestnut industry is the lack of availability and diversity of sufficient quantities of chestnut trees to fill out new orchards. There are many different cultivars of chestnut that have evolved over many years on other continents, but a grower wanting to plant a currently mid-sized orchard of 1,000 trees would be hard pressed to find that many trees legally available in the United States. While growers are currently evaluating many seedlings, there is so much characteristic genetic variability that only grafted trees are considered below. An orchard of seedling trees with unknown habitat and unknown growing characteristics would be nearly impossible to manage for profit as each tree would need to be managed as an orchard of one tree. The length of time to any return on investment for seedlings is generations. Mechanizing for efficiency would be difficult, spray protocols would be next to impossible, and harvest, if any would happen over nearly two months. Even as assuming all the seedlings in such an orchard were not sterile, the only known benefit would be lots of pollen available over a long period. However, this positive is far out weighed by the implications for the substantial genetic variability. That said, the industry appreciates those growers who continue to do the research to identify potential cultivars.
Lead priority for germplasm:
1. Create a systemic approach to accelerate development and propagation of new cultivars while evaluating based on: winter hardiness, yield data, size of nuts, pollination, time of maturity and harvest, disease and insect susceptibility and ease of peeling.
Other critical, high priority needs:
2. What model, or combination of market-based models make it possible for growers to either buy or grow new trees?
3. What conditions are necessary to obtain new trees? Is it:
a. Growers grow rootstock themselves and buy scion wood from a germplasm repository or
b. Rootstock is purchased from rootstock nurseries or other providers or
c. Learn how to graft your own trees or
d. Have your trees grafted for you or
e. Develop relationships with providers for a cooperatively profitable way to bring trees to the orchard?
4. What is the viable model for growing germplasm? Economic and physical factors both must be considered.
Priorities for orchard management

The current state of chestnut growing is in the pioneering period of development. Many things have become known about how to grow chestnuts since 1996. Through both research by professional faculty comparing notes across states and regions, and grower experience working with university faculty, we have come to believe that orchard management definitely has significant variance across growing areas. The industry needs to move beyond local favorites to understanding what cultivar grows best in what location. There is data that suggests that the cultivar "Colossal" grows very well from Missouri north, but because the industry is so young in its rebirth, many growers have opinions not based on solid longitudinal production data. The problem is that no nursery can be profitable trying to grow a few trees of many different cultivars. To optimize the growing of chestnut trees, the following extrinsic research and education efforts are needed:
Lead priorities for orchard management
1. Pollenizers for chestnuts have been through several iterations of strategy in the last 12 years because of a lack of research. Recently, Michigan State University scientists have been able to do genetic tracking of pollenizing trees such that these findings need to be made more comprehensive and then synthesized into viable planting strategies by region. Concomitant with this research is the need to know how chestnuts are pollenized, be it wind or insect.
Other critical, high priority needs:
2. Mapping climatic conditions carefully across all willing growers in the United States with respect to these points and periods:
a. bud differentiation b. harvest c. during the growing season.
3. What is the effect of growing degree days (GDD) on each cultivar used in the respective regions?
4. Cultivar Selection, what cultivars can be expected to grow well in which region?
5. Growing a good nut is the primary grower objective, what variables affect each cultivar? For instance, water, timing of water, fertilizer, climate, GDD?
6. Chestnut growers are widely dispersed geographically, and the ability to convey basic information in a timely manner is difficult. As such, a 21st century education modality is requested to be established, initially on youtube.com as video training materials similar to the ones developed by the One Acre Vineyard for wine grapes in Napa Valley.
7. There is mixed research on both the need and desirability of pruning that needs to be resolved so that growers can prune appropriately. This likely will vary substantially by region due to differing rates of growth between regions. A related question is: Is there variance on the pruning effect on mature tree productivity by cultivar?
8. Orchard floor control of vegetation and companion plantings need to be better understood. For instance, what kind of orchard floor vegetation is helpful, if any, how should it be maintained, and how wide a vegetation-cleared or mulched row should be for optimum uptake of water and nutrients?
9. Does chemical thinning after pollenization improve the size and quality of nuts to harvest?
Priorities for pest management

Four pests are already present in the United States: Gall wasp, European Red Mites, chestnut weevil, and chestnut blight. Chestnut blight is of course responsible for the nearly complete eradication of the American chestnut, a dominant forest tree by the 1950's. While still a problem, researchers and growers have turned to cultivars that appear to have the genes for blight resistance, primarily from Castanea mollissima, or Chinese chestnut. As such, while this is a devastating pest, growers have developed strategies to grow commercially viable chestnuts such that chestnut blight is not as high a priority.
Lead priority for pest management:
Asian chestnut gall wasp (Dryocosmus kuriphilus) has become established in the United States and is moving north from Georgia. Also well-established in Europe, it has far surpassed chestnut blight as the number one threat now both in Europe and the United States. Here are the areas of research and education that need to be pursued in regard to Gall Wasp:
Gall Wasp
1. Remediation
2. Limit spread via public, nursery, and grower education
3. Biological controls
4. Inspectors and Certifications (political)
5. Chemical controls
6. Prevention
7. Identify other hosts/controls
8. Chemical certifications
Other critical, high priority needs:
European Red Mites
European red mites have been identified in virtually all nursery stock from Georgia to Ohio and cause a significant loss of vigor in many species, and most certainly in chestnuts. Given the very few chemicals labeled for chestnuts, growers would like to stay far ahead of the curve on how to cope with this pest by the following, most of which need existing research and experience synthesized into easily understood educational materials through readily accessible educational modalities:
1. Risk Assessment: Is this a manageable problem?
2. Experience of other producers who have had to deal with this pest
3. Current treatments that are available
4. Scheduling of sprays
5. CAT Alerts
Process used to develop priorities
These priorities were developed on January 31, 2010 by a group of Midwest growers from the Midwest Nut Producers Council, Chestnut Growers Incorporated, Michigan Nut Growers Association, and Chestnut Growers of America. Early drafts of the text were circulated to various people in attendance so as to be sure of fairly reporting the discussion. The input of these contributors is greatly appreciated. The final draft was discussed at the Midwest Chestnut Farm Conference held in Clarke Lake Michigan August 21-22, 2010.
Three primary commercial chestnut grower groups in the United States all had a significant opportunity to build on the work already done by volunteers from the three groups at Michigan State University's Clarksville Research Station.