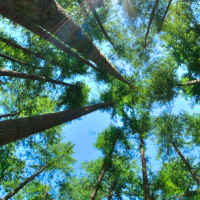 The 5,760-acre Dunbar Forest is the largest and second-oldest MSU off-campus facility. The forest hosts long-term genetics and silvicultural studies that have helped advance the science of forest management in Michigan and the Great Lakes region.
Events
December 20, 2018 6:30 - 7:30 p.m.

This webinar series is designed to offer continuing education for Master Citizen Planners in a convenient online opportunity, open to all planning and zoning officials.
January 9, 2019 6:30 p.m. - 8 p.m. Rudyard Township Hall, 18725 S. Mackinac Trail, Rudyard, MI 49780

Educational meetings in three U.P. locations to address soil nutrient and soil microbial balances, soil health improvement and general crop production issues.
May 14, 2019 - May 15, 2019 8:30 a.m. - 4:30 p.m. Inn at Bay Harbor 3600 Village Harbor Drive Bay Harbor, MI 49770-8577

This is a "cornerstone" multicultural workshop which sets an organizational framework for recognizing, understanding and appreciating differences.