Citizen Planner Online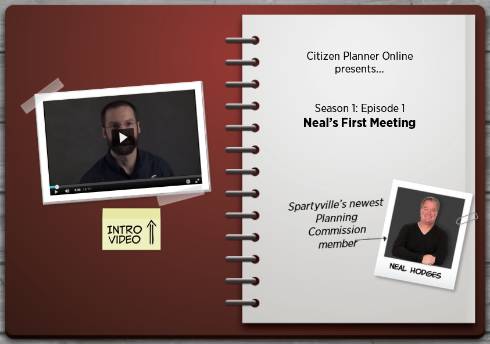 Citizen Planner Online is a completely online, self-paced version of the program designed for individuals who can't fit a six-week course into their schedule or who prefer this style of learning. It takes approximately 15 hours or so to complete, and can be accessed 24/7 so that individuals can do as much or as little at one time as fits their schedule. Citizen Planner Online is highly interactive with stories, videos, and activities to keep the learner engaged. To participate, you will need a robust internet connection and a computer, tablet, or mobile device (iOS or Android). Larger screens will provide a better experience. This program leads to an MSU Extension certificate of completion and the opportunity to become a Master Citizen Planner.
Select one of the options below to register for Citizen Planner Online:
SELF-REGISTRATION INSTRUCTIONS (FOLLOW STEPS 1-3 BELOW)
To register for this course you will need to create an account, sign in with your email/password, and complete the registration process. To watch a video tutorial, demonstrating an overview of the registration process, click on the following link: Online Course Registration Video Tutorial. Step-by-step instructions are below.
STEP #1: Create your Michigan State University Guest Account by selecting the Create Your MSU Guest Account button below. (For detailed instructions visit the following web page: Instructions: Creating Your Guest Account.) Once you have created your guest account, close your browser and return back to this page.
STEP #2: Click on the button below to login to the registration system with your Guest Account (your email) and Password.
Register for Citizen Planner Online
STEP #3: Upon registration, you will receive a receipt and instructions for accessing the course, or use the button below.
REGISTRATION INSTRUCTIONS FOR BULK ENROLLMENT (ENROLLING ANOTHER INDIVIDUAL)
To register an individual or group of individuals on behalf of your organization, follow the step-by-step instructions in this printable document: Citizen Planner Online Bulk Registration Instructions.
Cost: $250 per participant. Financial assistance is available upon request. Some municipal liability insurance providers reimburse member communities for the cost of planning and zoning training. The Michigan Township Participating Plan (Par Plan) - Risk Reduction Program is one such reimbursement program available to Par Plan members only. Contact your municipal liability insurance provider to ask about reimbursement.
Course Format: Self-paced Online Course
TECHNICAL ASSISTANCE
Your username (or NET ID) is the email address you used to create your account during registration (you use the same email address/password for registering and for taking the course). A "not authenticated" message is typically an issue with a password not being entered correctly.
If you have any technical problems, please contact the Michigan State University IT Service Desk from 7am-12am Monday through Friday and 10am-12am on Saturday/Sunday, any day that the University is open.
Phone: (517) 432-6200
Phone (toll free): 1 (844) 678-6200
If you need to reset your password at any time go to https://auth.msu.edu/ and select the option for "Need help Signing in."
---
Instructors