Citizen Planner Program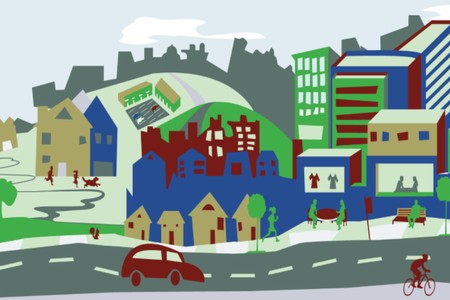 About Citizen Planner
The Michigan State University (MSU) Extension Citizen Planner Program offers land use education for locally appointed and elected planning officials, zoning administrators and interested residents throughout Michigan.
Citizen Planner is a time-tested educational program proven to be comprehensive without being overwhelming. The program is delivered locally to provide a convenient way for busy community leaders to obtain the latest technical knowledge and the proficiency they need to perform their duties more effectively and responsibly. This program leads to an MSU Extension certificate of completion and the opportunity to become a Master Citizen Planner.
Why Citizen Planner?
Local officials have a responsibility to help their communities manage the impacts of economic change and be part of the solutions to challenges their communities face. Local communities that proactively plan to succeed in the New Economy can improve their quality of life and overall sustainability. The Citizen Planner Program empowers local officials to shape the future of their communities by providing them with the tools and education they need to lead.
Citizen Planner Classroom Curriculum
Understanding the Planning and Zoning Context– Learn the legal sources and limitations of planning and zoning authority, and explore your understanding of ethical decision-making.
Planning for the Future of Your Community– Recognize the function and importance of a master plan, know the process for developing one and its relationship to zoning.
Implementing the Plan with Zoning– Discover the importance of zoning, learn how zoning is administered and gain confidence in your zoning reviews, including site plans.
Making Zoning Decisions– Learn how to adopt and amend a zoning ordinance, understand the role of the zoning board of appeals and obtain skills in basic property development methods.
Using Innovative Planning and Zoning– Strategize with placemaking and design-based solutions for local and regional success in the New Economy.
Successfully Fulfilling Your Role– Strengthen your ethical decision-making skills, apply standards to your decision-making and know when to ask for help.
Cost: $250 per participant. Financial assistance is available upon request. Some municipal liability insurance providers reimburse member communities for the cost of planning and zoning training. The Michigan Township Participating Plan (Par Plan) - Risk Reduction Program is one such reimbursement program available to Par Plan members only. Contact your municipal liability insurance provider to ask about reimbursement.
Group rates available to 4 or more registrants from the same unit of government
Course Format:
Live webinar via Zoom or in-person. All participants receive a reference book with presentations and resource materials.
---
Instructors