Heroes to Hives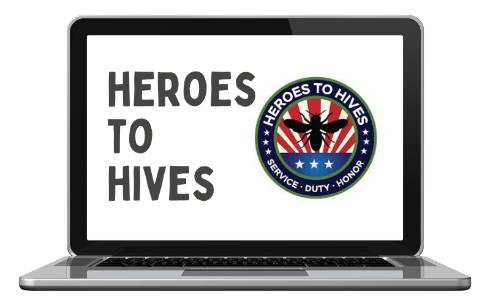 2023 Online Program
The online portion of the Heroes to Hives program moved to Michigan Food & Farming Systems (MIFFS). Veterans, Reservists, Active Duty or National Guard members of the U.S. Armed Forces are eligible for the program, and they are allowed to enroll their adult children, spouses, partners and caregivers. Registration is open at www.HeroesToHives.com from Nov. 1, 2022, through Feb. 28, 2023.
MIFFS will email eligible participants educational content monthly from March 2023 through November 2023. The 2023 online program will include new videos and resources, and past Heroes to Hives participants are welcome to register.
MSU Extension creates educational materials for participants in the Heroes to Hives program and holds in-hive workshops. Participants in the 2023 Heroes to Hives online program who reside in Michigan will be notified by email about opportunities to register for in-hive workshops at MSU sites in the 2023 beekeeping season.
2022 Online Course
Registration is closed for MSU Extension's 2022 Heroes to Hives online course. Students currently enrolled in the 2022 online course have until Dec. 31, 2022 to finish the course and download their certificate of completion. Students will receive a link with all of the educational content so that they can access the materials after the online course closes.
Assistance for the 2022 Online Course
If you have any technical problems, please contact the Michigan State University IT Service Desk from 7am-12am Monday through Friday and 10am-12am on Saturday/Sunday, any day that the University is open.
Phone: (517) 432-6200
Phone (toll free): 1 (844) 678-6200
For content related questions, please contact Ana Heck at h2h@msu.edu.
Frequently Asked Questions for the 2022 Online Course
What is my username/NETID?
Your username (or NET ID) is the email address you used to create your account during registration (you use the same email address/password for registering and for taking the course).
What URL do I go to for logging into the course?
Go to: https://d2l.msu.edu/. You will see the Michigan State University at the top of the page. Login with the email address and password you set during the registration process.
I received a "not authenticated" response when trying to login – what do I do?
A "not authenticated" message is typically an issue with a password not being entered correctly.
I forgot my password – where can I reset it?
If you need to reset your password at any time go to https://auth.msu.edu/ and select the option for "Need help Signing in."
Acknowledgment
This work is supported by the Enhancing Agricultural Opportunities for Military Veterans grant, award no. 2021-77028-35274 from the USDA National Institute of Food and Agriculture.
---
Instructor