Events
There are no entries at this time.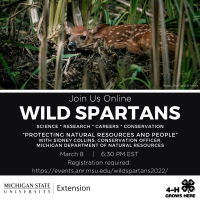 March 8, 2022 6:00PM - 7:00PM
Join 4-H staff as we take a look into life working with fisheries and wildlife! This month's 4-H Wild Spartans Series will explore working in conservation law enforcement.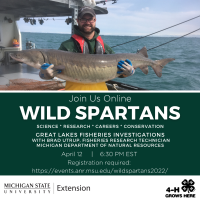 April 12, 2022 6:30PM - 7:30PM
Zoom
Are you a Wild Spartan? Join us for this free monthly fisheries and wildlife research webinar series for families interested in exploring science, careers, and conservation.