Wild Spartans Series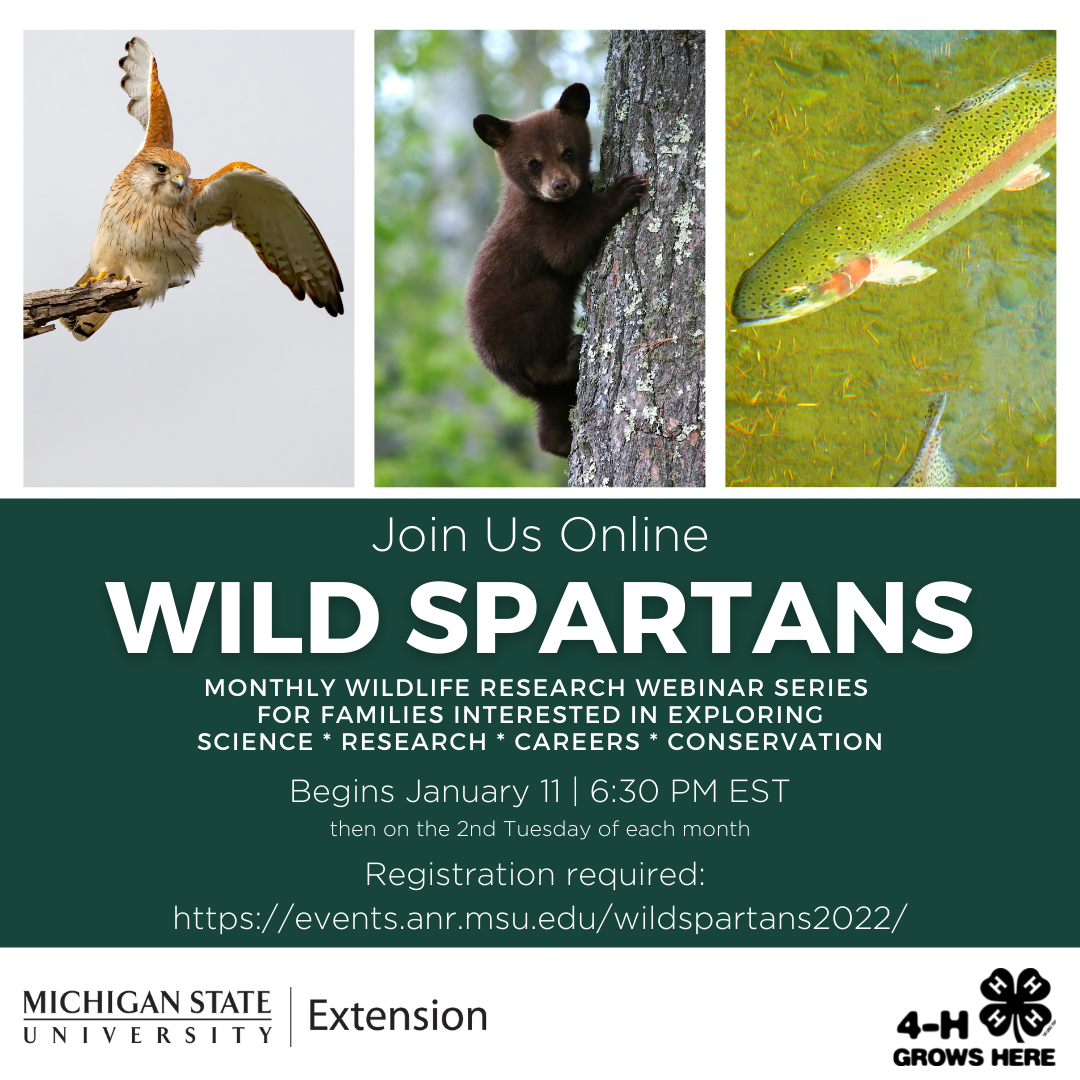 Join 4-H staff for the "Wild Spartans" series for a look into life working with fisheries and wildlife! Follow along as we climb through bogs, peer into bear dens, mist net songbirds, snorkel for fish, or perhaps even tag deer. Meet researchers, learn about their field work, and the education and career path they've followed to get there.
Each 60 minute session will feature 1-2 guest researchers. Youth will be encouraged to ask questions to learn more through a live Q&A with scientists.
This free series is open to 4-H and non-4-H youth ages 12-19 years.
Upcoming Program Dates and Topics:
Wild Spartans programs have concluded for spring 2022, we will continue in the fall of 2022. Please view the previous Wild Spartans sessions in recorded videos below.
LOCATION: Online Meeting will be held using the free app called Zoom. Link/password for the meeting will be emailed about a week prior to each presentation.

REGISTRATION IS CURRENTLY CLOSED AND WILL RESUME FALL 2022, PLEASE VIEW OUR PREVIOUS PRESENTATIONS BELOW
To learn more, contact:
Veronica Bolhuis, Anne Kretschmann, Seth Martin, Laura Quist, or Dr. Alexa Warwick

View previous 4-H Wild Spartan sessions
Published on January 12, 2021

In this 4-H Wild Spartans episode, we take to the skies to talk to an ornithologist about the raptors that inspire us! Learn about researching, protecting, and conserving raptors that soar our skies. Meet EDM wildlife biologist, Libby Mojica, learn about her field work, and the education and career path she followed to get there as she discusses "Raptor Conservation and Management: Working with Birds of Prey in Cities and Wildlands."

Published on December 8, 2020

In this 4-H Wild Spartans episode, we go upstream to learn about sea lamprey, an oceanic species invading the Great Lakes. Meet MSU graduate researcher, Taylor Haas, learn about his field work, and the education and career path he followed to get there in his presentation, "Invasive Species and I: A Scientist's Tale of Working with Wildlife from Elsewhere".

Published on November 10, 2020

In this 4-H Wild Spartans episode, we head to the sub-Sahara to learn about African painted (wild) dogs. Meet MSU graduate researcher, Caitlin Mack, learn about her work on the social behavior and conservation of these rare carnivores, and the education and career path she followed as she discusses "Science in Zookeeping and Conservation."