Conservation Conversations: April 18- Wetland Conservation in Michigan - Barb Avers: Okemos, MI
April 18, 2023 6:00PM - 8:00PM
 Michigan Nature Association, 2310 Science Parkway, Okemos, MI 48864
---
Contact: Bindu Bhakta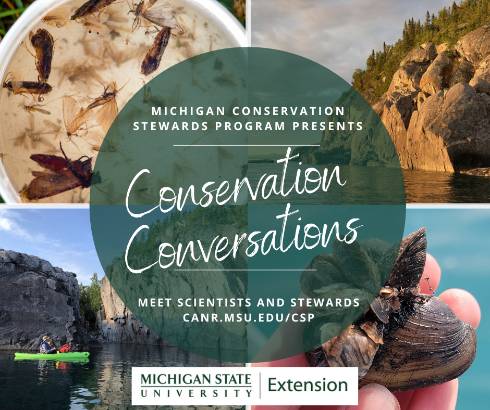 Presented by the Michigan Conservation Stewards Program (CSP)


Tuesday, April 18, 2023


6:00 pm - 8:00 pm, ET
Michigan Nature Association,

2310 Science Parkway, Okemos, MI 48864




5:30 pm: check-in, refreshments, and educational table displays
6:00 pm - 7:15 pm: presentation
7:15 pm: Q/A & discussion with Dr. Barb Avers; educational table displays; refreshments
Registration fee: $10/person ($15/person at the door)


Join the MSU Extension Conservation Stewards Program on April 18th for the "Conservation Conversations" in-person talk series. Featured topics focus on current research and management approaches, unique natural communities, and the diverse conservation partnerships involved in supporting Michigan ecosystems.

During this event, there will be time for light refreshments as well as Q and A and discussion with Dr. Barb Avers. Participants will also have an opportunity to visit with invited local conservation organizations to find out about the work they are doing including upcoming events, and how they can get involved in local conservation efforts. MSU Extension staff will also have information about the 2023 Michigan Conservation Stewards Program as well as a variety of other natural resource-oriented programs and upcoming events.

Talk Title and Description:
Wetland Conservation in Michigan
Description: Wetlands are incredibly important and provide diverse benefits such as wildlife habitat, places to recreate, improved water quality, flood water storage, and many more. Learn about how partners including the Michigan Department of Natural Resources, U.S. Fish and Wildlife Service, USDA Natural Resources Conservation Service, Ducks Unlimited, and many local organizations are working to protect and restore wetlands on a large landscape scale across the state. Also, learn about opportunities to restore and improve small wetlands on private lands and to make them more beneficial for wildlife. Don't have wetlands of your own? Learn about ways that everyone can contribute to wetland conservation.
Speaker Biography:

Dr. Avers works for the Michigan Department of Natural Resources as a Waterfowl and Wetlands Specialist. She earned her PhD and B.S. in zoology from MSU and an M.S. in wildlife ecology from Mississippi State University.
Who should attend this "Conservation Conversation" event?
Anyone interested in nature who want to learn more about natural communities and conservation efforts in Michigan

Individuals who have previously completed the Michigan Conservation Stewards Program interested in continuing their learning and networking/connecting with other alumni.

Registration for Conservation Stewards participants is free.

Natural resource professionals who want to build their knowledge on ecosystem-based management principles

Individuals who want to learn more about the Michigan Conservation Steward Program as well as other MSU/MSU Extension programs and events being offered in 2023

Those who want to learn about area conservation organizations and their local conservation efforts, including upcoming programs and events
To see the complete 2023 schedule for the other 2023 "Conservation Conversations" in-person talks, https://www.canr.msu.edu/conservation_stewards_program/

To learn more about the Michigan Conservation Stewards Program, visit: https://www.canr.msu.edu/conservation_stewards_program/


Get Directions
---