Crown gall
Disease
Crown gall
Agrobacterium tumefaciens (Smith and Townsend) Conn
Distribution: Widespread; common to all fruit-growing regions in eastern North America.
---
Photos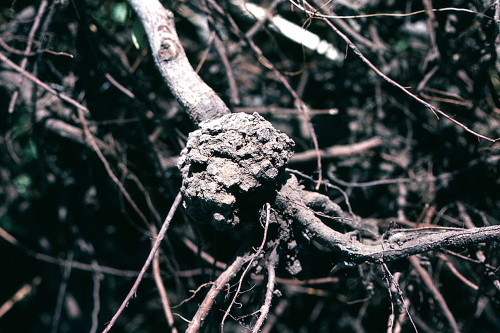 Spherical to elongated galls form along the roots or trunk at soil line. Thomas Burr, Cornell Univ.
A
Infected trees are often stunted and produce small, chlorotic leaves. Spherical to elongated swellings (galls) along the roots or on the trunk just above the soil line is the primary symptom (A). Young galls are smooth and soft, and the bark tissue is often pale relative to the surrounding healthy tissue, but galls darken as they age. The galls may completely surround the root or crown or may appear as a growth off to one side (B). Galls start small and can grow to a typical 0.6 to 10 cm in diameter.