Flyspeck
Disease
Flyspeck
Schizothyrium pomi (Mont.:Fr.) Arx
Distribution: Sooty blotch and flyspeck occur almost everywhere apples are grown and often occur together; more severe in humid and warmer climates.
---
Photos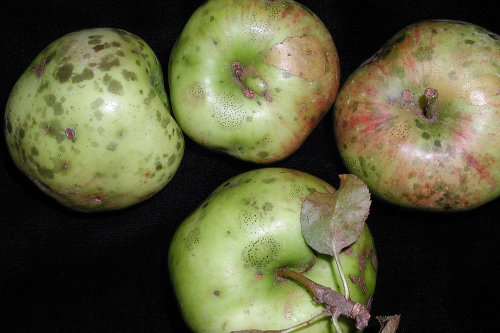 Sooty blotch and flyspeck appear together and affect only the fruit epidermal layer. William Turechek, USDA-ARS
A
Sooty blotch and flyspeck are found together on the same fruit and affect only the epidermal layer of the fruit (A). Flyspeck colonies appear as distinct groupings of shiny, black fungal bodies on the surface of the fruit (B). The number of colonies or "specks" range from a few to over 50 per grouping.