Mineola moth (Destructive pruneworm)
Insect
Mineola moth (Destructive pruneworm)
Acrobasis tricolorella (Grote)
Lepidoptera: Pyralidae
Distribution: Southern Canada and south to ME and MI.
---
Photos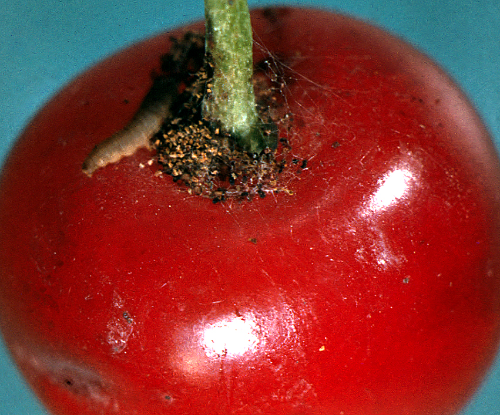 Early summer larvae attack fruits, feeding around the pits near harvest. NY State Ag Experiment Station
D
Adult is a bluish gray moth that assumes a wedge shape when at rest. It has a transverse broad white stripe bordered by a smaller reddish brown stripe in the middle of the forewings; a smaller set of similar bands occur near the posterior edge (A). The larva has a brown head, with a body that is dark grayish brown dorsally and reddish brown ventrally, and marked with many short spines (B).