Skeletonizers
Insect
Skeletonizers
Choreutis pariana (Clerck) Psorosina hammondi (Riley) Bucculatrix canadensisella Chambers
Lepidoptera
Distribution: C. pariana: Most fruit-growing states and provinces in eastern North America and south to VA. P. hammondi: Southeastern Canada and south through the central and mid-Atlantic states. B. canadensisella: Mainly southeastern Canada.
---
Photos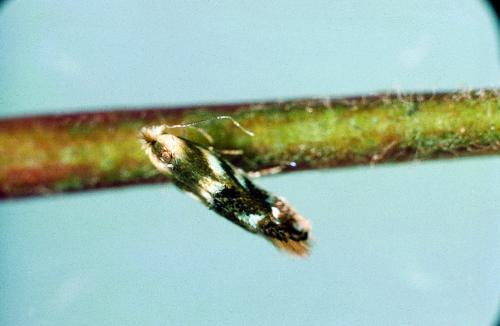 Adults are brown and short with transverse bands on each forewing. Therese Arcand, Nat. Res. Canada
A
Apple-and-thorn skeletonizer: Choreutidae Choreutis pariana (Clerck) Appleleaf skeletonizer: Pyralidae Psorosina hammondi (Riley) Birch skeletonizer: Bucculatricidae Bucculatrix canadensisella Chambers The adults of the skeletonizers are brown and short, with transverse bands (A, B) on each forewing. The larvae are yellow to pale green with numerous hairy discs on each segment of the body (C).