How Input Subsidy Policies Change the Legume Farming Landscape
Principal investigator/Lead institution: Dr. Melinda Smale, Michigan State University
Collaborating institutions: Economie de la Filière (ECOFIL), Institut d'Economie Rurale, Mali
Université Norbert Zongo, Unité de Formation et de Recherche en Sciences Economiques et de Gestion (UFR-SEG), Burkina Faso
Works in: Burkina Faso, Mali
Project Overview
Policies promoting farm input subsidies on starchy staples and cotton may distort land allocation to cowpeas and reduce crop diversity on farms, with adverse consequences for the resilience of the farming landscape, nutrition, and rural incomes.
Subsidies may particularly affect the situation of women and young family members who rely on them to meet personal needs. Yet, we know of no empirical evidence on these points in our two study countries and scant evidence for other countries in a vast literature on economic impacts of fertilizer subsidies in Sub-Saharan Africa.
Through this project, we will address this gap by conducting rigorous analyses with existing large-scale datasets while strengthening the linkages between research and policy formulation as well as supporting the analytical capabilities of young professionals in Mali and Burkina Faso.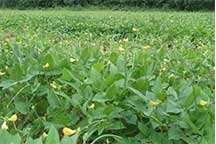 Our research will enhance comprehension of the unanticipated consequences of fertilizer subsidies on the cowpea value chain in Burkina Faso and Mali by examining: 1) the effect of fertilizer subsidies on production diversity (cowpea area shares, plot counts, and spatial indices of crop diversity on farms and villages); 2) the gender- and youth-differentiated effects of fertilizer subsidies on cowpea production, quantities sold and revenues; 3) whether on-farm crop diversity or market participation most influences the dietary intake of women of reproductive age.
Several conduits for capacity-building are propose Including having one the most advanced graduate student from each country participate in the Lifelong Education program at Michigan State University for one semester.
Click here to download the Project Fact Sheet
Want to learn more?
Presentation at the 2022 Global Legume Lab Convening.
Presentation at the 2021 Global Legume Lab Convening.
Analysis of Changes in the Fertilizer Subsidy Policy in Mali Using the Kaleidoscope Model
Green Revolution Déjà Vu and Gendered Impacts on Cowpea Production in West Africa
Fertilizer Subsidy Effects on Cowpea Areas and Spatial Crop Diversity in Malian Villages
Fertilizer Subsidy and Cowpeas In Mali
2021 Presentation at Annual Meetings of the American Applied Economics Association
Summary of Masters' Student Field Trip to Ouagadougou to Attend a Fair/Conference on Cowpea and Rice