Resources
A host of tools and resources are available to get you started in learning about the NCI Charrette System or to support the knowledge and experience gained through your Certificate Training. See our resource library below for a wide range of free and for sale publications, articles and videos.
Books
The Charrette Handbook, 2nd ed.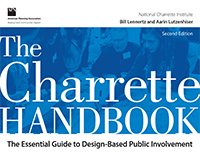 By: Bill Lennertz and Aarin Lutzenhiser. Book Review.
A complete desktop reference for professional planners and community members alike, The Charrette Handbook is a step-by-step guide for how to plan and hold a successful charrette.
This book may be purchased from the following locations and may take up to four weeks to ship:
Routledge/Taylor & Francis Group: Paperback: $52.95 / E-Book price: $47.66. APA members are entitled to 20% off all print books orders from Routledge.com.
Amazon: Paperback price: $52.95 / Kindle price: $42.36 and other sellers.
Request for Proposal (RFP) Template
The NCI developed the model RFP to guide procurement of services relating to a community planning project that includes an NCI Charrette. This file is available for download after filling out a short form.
Presentations
This PowerPoint presentation, which includes both slides and a script, describes what a charrette is and how it can be used to improve the planning process in your community. Produced for the National Association of REALTORS® by the National Charrette Institute, it can be used for self-instruction or as a presentation to others.
Videos
People say that you can't really understand charrettes until you have seen one in action. The NCI Charrette System video is the next best thing to being there.
NCI's Founder Bill Lennertz explains this transformative process.
The NCI Charrette System™ is more than the charrette. Hear NCI's Founder Bill Lennertz describe how a charrette works in the context of the three-phase NCI Charrette System.
Learn about trends in charrettes for projects that link public health and community planning.
NCI's Founder Bill Lennertz talks about how to ensure long-term project success with step one of the NCI Charrette System™.
Reports
The first nuts-and-bolts reference for planning Transit Oriented Development (TOD) projects using a charrette. Written under a Federal Transit Administration grant, this guide is based on the NCI Charrette System™. It can be used by MPOs, state, city and county planning agencies, transit agencies, consultants and community advocacy groups. The guide describes the process, tools and techniques required to completely plan a TOD project from its inception through implementation.
Sponsored by the Robert Wood Johnson Foundation, view a summary of this project and download the final report on the NCI cross-disciplinary forum on public involvement best practices. It includes a literature review, expert papers presented at the forum, forum findings on key challenges and solutions, and project process examples.
Articles
Bill Lennertz for Planning Magazine. How social media and web-based tools are increasingly the capacity for involvement.
Bill Lennertz, Aarin Lutzenhiser and Tamara Failor for the Planning Commissioner's Journal.
Bill Lennertz for the New Urban News.