Nematology
For current applied nematology work, go to the Applied Nematology page.
Descriptions, images and nematode community structure analysis of Nematodes found at KBS/LTER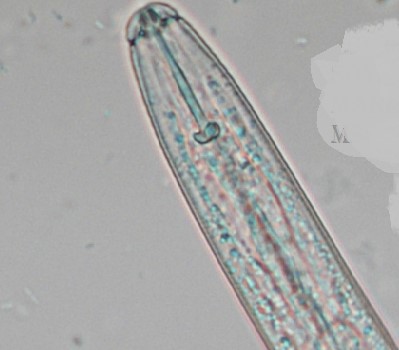 A nematode commutiy structure analysis was done at Kellogg Biological Station/Long Term Ecological Station (KBS/LTER), Michigan. Nematodes from seven treatments were identified to the lowest possible taxon. Soil samples were taken from the following treatments (all repetitions): Deciduous Forest (DF); Successional Field (SF; high input corn/soybean/wheat conventional till (T1), high input corn/soybean/wheat no- till (T2); zero input corn/soybean/wheat, legume cover, till (T4); and Successional field (grasses and forbs), historically tilled (T7). Soil sampling and nematode identification was done for two different dates: September 2007, December 2007.
Nematodes found at KBS/LTER, Michigan, were described and listed according to the Phylum Nematoda organized by De Ley and Blaxter 2002 and images were also taken of the nematodes found by Marisol at KBS/LTER.
View images, list and descriptions of the nematodes found at KBS/LTER.
Go to: Phylum Nematoda List (DeLey and Blaxter, 2002) of nematodes found at KBS/LTER, with links to images and descriptions.
Go to: KBS/LTER Nematode images list
See references used for nematode identification and description.