Genus Cruznema
To view images go to: Image List
ORDER RHABDITIDA
INFRAORDER RHABDITOMORPHA
Family Rhabditidae
Genus Cruznema (Pelodera)
Description:
"Lips deeply offset, with papilliform labial sensilla, corpus with plain lining. V=80-89%, no postvulval sac. Spicules free" DeLey et al. 2001
"Cuticle transversely annulated and longitudinally striated. Lips well separate and well differentiated from neck. Metastegostom isoglottoid, carrying small denticles. Female gonad unpaired, prodelphic; vulva in the posterior fifth of body length. Tails conoid. Spicules not fused distally. Bursa peloderan, anteriorly open. Phasmids near the anal opening." Abolafia, 2006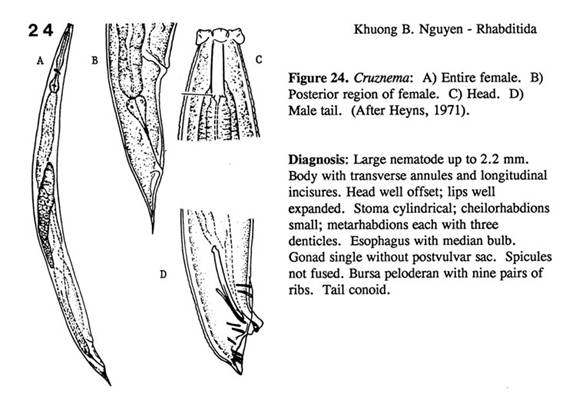 References:
Abolafia, J. 2006. Order Rhabditida: Suborder Rhabditina. In: Eyualem Abebe, Traunspurger W., and Andrassy I. (eds) Freshwater Nematodes: Ecology and Taxonomy. CABI Publishing, Cambridge, MA, pp. 707
DeLey P., M. Mundo-Ocampo, and I. DeLey. 2001. Identification of Freeliving Nematodes (Sercernentea). Workshop booklet from University of California Riverside.
Nguyen, Khuong B. 2006. Nematology website in the University of Florida.