County Annual Report
Michigan State University Extension is pleased to make information available to you. Our purpose is to provide educational programs and assistance in Agriculture and Natural Resources, Children, Youth and Family, and Community and Economic Development. If we can be of further assistance, please contact us. You can also view our most recent annual report for more information below: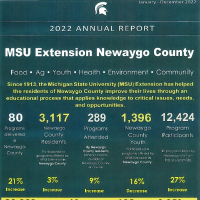 Snapshot and highlights of successful programming in Newaygo County in 2022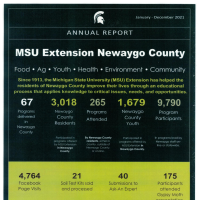 Snapshot and Highlights of successful programming in Newaygo County for 2021
Published on October 22, 2020
Highlighting Newaygo County accomplishments in 2020!

Published on April 28, 2020
We are grateful for the privilege to have served Newago County in 2019, and we share some of the highlights of the difference we've made in this report.

Published on August 30, 2019
Michigan State University Extension continues to serve the residents of Newaygo County through the educational process that applies knowledge to critical issues, needs and opportunities.