10 things to think about before establishing pollinator habitat
Reduce the confusion about pollinator habitat options with this guide and an upcoming event.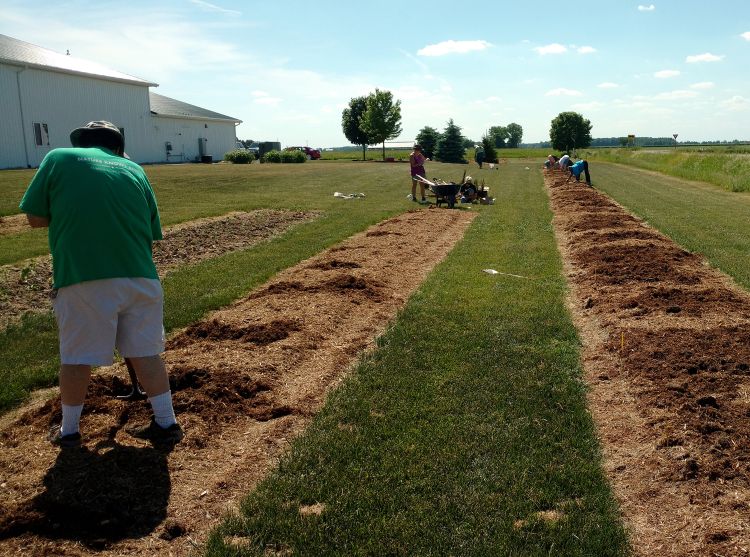 Looking to establish habitat for pollinators? There are many state, county, city and private programs available to help you do so. While these programs are designed to help, it is easy to be overwhelmed by all the options or get bogged down by all the acronyms, restrictions and paperwork they require. At Michigan State University Extension, our aim is to help Michigan homeowners, farmers and land managers take advantage of resources and programs so that you can smoothly turn your good intentions into pollinator-friendly landscapes.
To help interested people visualize how different native flowering plant species may look and perform in a pollinator planting, MSU is hosting a Supporting Beneficial Insects with Flowering Plants workshop Aug. 2, 10 a.m. to 2 p.m., at the Clarksville Research Center, 9302 Portland Rd, Clarksville, MI 48815. More than 55 species will be on display that have undergone testing for their attractiveness to beneficial insects, including pollinators. A line-up of speakers will inform participants on the establishment and maintenance of plantings. For more information, an agenda and to register, go to: Supporting Beneficial Insects with Flowering Plants.
The following 10 tips will help serve you when considering the many options available for establishing pollinator habitat.
1. You don't have to keep bees to help bees
Honey bees, which are from Europe, get a lot of (deserved!) attention, and many people think that bee keeping is the best way to help pollinators. However, in Michigan, we have over 400 species of native bees, plus moths, butterflies, ants, flies, etc., who aid in pollination. One of the biggest problems facing all pollinators is habitat loss, and restoring habitat helps honey bees as well as our native pollinators. Acquiring the skillset required for successful beekeeping requires a long-term commitment. However, anyone can put in and maintain a pollinator habitat. Why focus on the needs of just one, when you can help them all equally with flowering plants?
2. Determine your goals
Do you want your lawn to support pollinators, a ditch bank or an entire field? Is this for you personally as a beekeeper (i.e., nectar forage), farmer (e.g., organic matter accumulation, compaction alleviation, filtration or erosion control), business' public image (e.g., parking lots and corporate lawns), or for the greater good (e.g., school, library or other public area)? Each of these approaches will open and close different doors for attaining financial support for establishment.
Farmer. Programs supported by the USDA Natural Resource Conservation Service (NRCS), county Conservation District and U.S. Fisheries and Wildlife Service (USFWS) offer incentives for farmers and owners of leased farms to take on conservation efforts. These include well-known programs, like the Conservation Reserve Program (CRP), but also lesser-known ones with smaller, county-specific or temporary financial support. In some cases, lands are required to have a recorded cropping history, and some programs operate through a bid-process or point system. Meeting with a person from one of these federal, state or county organizations is essential, as these programs can change depending on the Farm Bill and other conservation priorities. A good first step is to speak with field staff from Farm Service Agency and NRCS at your county USDA office, and work with your Conservation District biologist.
Company. As an employee of a private business, you may be able to find Green Initiatives internally. Some organizations may be looking for ways to enhance their public perception through habitat restoration projects, and be willing to sink the cost of doing so, but are looking for someone to champion the project. In these cases, the resources that are most sought after are the tools and technical advice for completing the job. Often, businesses are more likely to fund a project if it is well thought out and supported. Consider asking local Master Gardeners and native plant chapters for help in installation and maintenance.
Educator. Dedicated educators and those looking to do something for the public good can access a number of donation and grant opportunities. Multiple organizations offer Environmental Education grants for small amounts of money to purchase seeds and tools for establishing native grasses and flowers on school and community property. Private or public nature and land conservancies, Master Gardeners and garden clubs often collect seed to establish and expand their own plantings and for use in educational outreach. Cementing a relationship with employees from county Conservation Districts and seed companies can lead to donations of flowering trees and shrubs and seeds. When soliciting for donations, it is important to assure donors of the educational nature of your intentions, so make sure you include a plan for outreach/education.
Public land manager (state game areas, conservancies, city managers, etc.). There are separate pots of money set aside for organizations that manage public land. The North American Wetlands Conservation Act (NAWCA) established funds for habitat development, and the Department of Natural Resources (DNR) Wildlife Habitat Grant Programs continually provide funding to land managers of publicly accessed hunting lands. Some of these habitat initiatives are also beneficial to pollinators. USFWS Wildlife Grants and Habitat Conservation Plans are also an option for agency partnerships.
Private landowner. There are a few opportunities for funding if the acreage is large enough, even if the land has not been in agricultural production recently. The MDNR Private Lands Program (PLP) or the USFWS Partners for Wildlife Program (PWP) may fit your goals. Some NRCS programs may apply. Contact your local conservation district biologist and USDA office to start, and look at other projects in your area.
3. Think outside the box
Think about your ideas for where you might plant habitat – maybe you dreamed of turning an old field into a prairie – but also make a list of other areas you could use. Are there smaller plots, ditches, sections of lawn or drainways that could be improved? Maybe you can't put in five acres of prairie, but you could add pollinator-friendly trees along your drive. Don't limit your search to pollinator-specific projects. Some programs are designed for one thing, but can still benefit pollinators. For example, riparian restoration or wind break projects can be made into a pollinator project simply by adding the right flowering plants and trees. Restoration for other wildlife like birds or deer can also benefit pollinators. Don't forget about partners like Pheasants Forever or the Audubon Society.
4. Examine your opportunities for funding
Here is a brief list of the programs where funding for habitat can be subsidized.
General information:
NRCS programs:
FSA programs:
MDNR programs:
USFWS programs:
Educational grant programs
5. Don't count on the internet for updated program information
The web is a good place to get ideas and see other successful projects, but don't count on federal program websites to have the latest, up-to-date information. Program details and requirements change quickly, and websites generally update at a slower pace. The best resources are people – call organizations directly and make an appointment at your USDA office. Chances are, many more programs and resources are available than what are listed online. We may be used to an online world, but for getting information on pollinator resources in Michigan, a phone call or meeting with your USDA office and conservation district is often the best way to start.
6. Be prepared for paperwork
There is no such thing as a free lunch. Many programs that provide funding or resources have to report back how their money is spent. That means they need to document where their money is going. This is especially true of programs based on taxpayer dollars. Record everything you are doing, and be patient if you are asked to fill out documentation.
7. Think about the long term
Many projects have long-term commitments and also require scheduled maintenance. Make sure you are ready if you need to burn a prairie in five years or brush hog the ditches. There is a lot more to establishing habitat than just planting seeds. You may have to prepare the soil for a year or two in advance, replant or mow. While many habitats are hardy and self-sustaining, there is no such thing as labor-free restoration, so make sure you have a plan and can manage the long-term care. It is better to have a smaller project that is well-managed than a large planting that no longer functions.
8. Don't be afraid to work with others
Maybe you don't own property, or your property is already in prime pollinator habitat. Many organizations, neighbors and companies would be interested in having their land put into a pollinator habitat, but don't have the time or resources to complete the process. Find a club, school, business, neighbor, library, nature center or park and see if you can work together with staff to create a pollinator habitat. Sometimes it just takes someone with the initiative and time to pull the project together.
9. Don't be afraid of going alone
You don't need to have an official pollinator habitat program to plant for pollinators. If you can't find a good fit or are waiting to hear about funding, don't let that stop you. Conservation Districts have tree sales every spring, offering many pollinator-friendly trees at reasonable prices. Many garden centers, botanical gardens and gardening groups have seed swaps and native plant sales, and pollinator-friendly seed mixes are becoming cheaper and more widely available.
10. Locate reputable seed, transplant and technical advice
There is no such thing as a one-size-fits-all pollinator planting. The best planting for you will depend on your soil type, drainage, sun, growing zone, size, budget, etc. Make sure you are well-informed and have the information to ensure your plants will thrive. More often than not, the same people who produce plants and collect seed for sale also know a lot about how to establish and grow them well. Don't be afraid to ask seed and plant companies for advice and recommendations. Some Conservation Districts have rental tools for establishing grassland plants from seed, and all can direct you to someone to ask for advice. Below are a few links to resources.
Sources for seed/plants:
Sources for information: