2017 ANS Graduate Student Award winners
The 2017 Animal Science Graduate Student Award winners were announced today. Congratulations go out to Deborah Velez, Paige Stanley, Kaitlyn Daza, and Martin Carrasquillo-Mangual!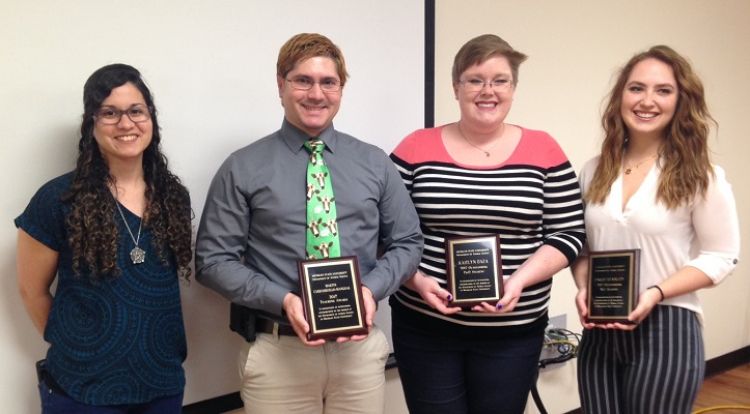 The 2017 Department of Animal Science Graduate Student Award winners were recognized Friday, April 21, 2017. The awardees are...
2017 Jacob A. Hoefer Award: Deborah Velez (left)
2017 Outstanding M.S. Student: Paige Stanley (right)
2017 Outstanding Ph.D. Student: Kaitlyn Daza (second from right)
2017 Teaching Award: Martin Carrasquillo-Mangual (second from left)
The awards for the Outstanding Master's Student and Ph.D. Student are based on academic performance, scholarly activities, service to the department, college and university and service to the greater community. Students chosen for these awards are all-around exceptional students. To qualify for the Master's award, a student must be at least one year into their program, and to qualify for the Ph.D. award, the student must have completed the comprehensive exam.
The outstanding teaching award is given to a student who has devoted significant time to the development and delivery of classroom material.
The Jacob A. Hoefer Award's purpose is to encourage competitiveness for future employment of Ph.D. candidates in Animal Science. Applicants must apply for a position in their area of interest and present an interview seminar to an Evaluation Committee. The format for the seminar is similar to that required during an interview for a position in the applicant's area of expertise. Applicants are evaluated on their competitiveness for the position for which they are applying based upon their academic record, scholarly activity, cover letter, curriculum vita, presentation and answers to questions. To be eligible for the award, the student must have passed their comprehensive exams and be a Ph.D. candidate in the Department of Animal Science.