2017 Tri State Dairy Nutrition Conference Student Awards
Some very good news for MSU grad and undergraduate students!
April 21, 2017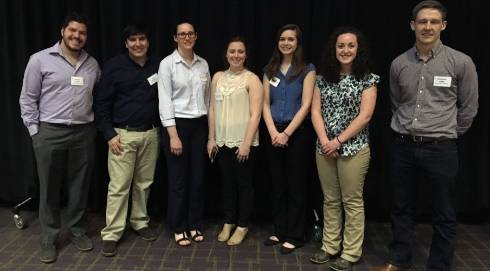 This week at the Tri State Dairy Nutrition Conference Student Competitions MSU had an outstanding showing. There were 26 presentations across 4 competitions: PhD research, MS research, undergraduate research, and undergraduate literature review. Other students were from Purdue University, The Ohio State University, University of Kentucky, University of Illinois, and McGill University.
MSU had a clean sweep of 1st, 2nd, and 3rd in the undergraduate research and literature review categories: Monika Dziuba, Lindsay Baird, and Claire Schmidt, respectively. ( Marin Western (1st) and Jordan Guy (3rd) did their research in Dr. Adam Lock's lab and Elle Andreen (2nd) in Dr. Mike VandeHaar's lab. The three literature review students are all currently taking Ruminant Nutrition in Dr. Dave Beede's lab and were mentored by him and graduate student Gabby Maldini.
In the PhD category, MSU came in 1st with Jonas deSouza (student in Dr. Lock's lab) and 2nd with Rodrigo Souza (student with Dr. Mike VandeHaar). All the students from MSU, whether they placed or not, did an outstanding job and were great ambassadors for MSU.