2017 Michigan wheat variety performance report now available
It is not too early to think about selecting wheat varieties to plant this fall.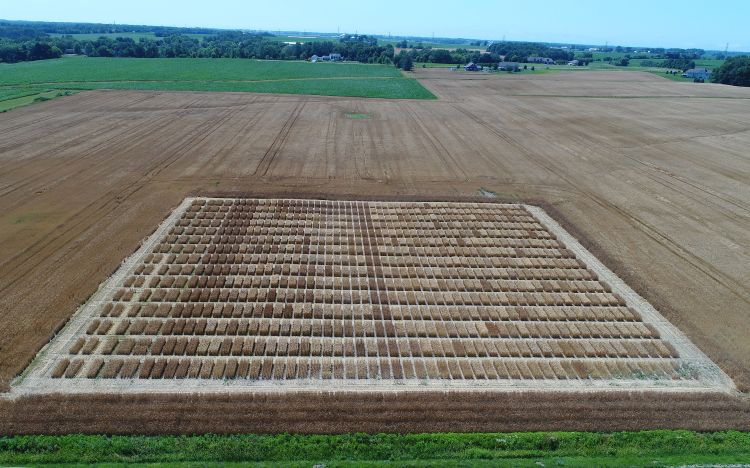 The 2017 Michigan State Wheat Performance Trials have been harvested, tabulated and are now published. The full trial included 125 entries (64 of which were experimental lines) from 13 organizations, including Michigan State University, and data analyses were conducted using all of these entries.
For ease of viewing, two versions of the report are available. The "commercial only" version (available online and will be printed in the "Michigan Farm News" publication) includes the data of 57 commercially available varieties from 12 organizations. The "including experimentals" version (online only) includes all commercial and experimental lines. View both versions at 2017 Michigan State Wheat Performance Trials.
Variety selection
Variety selection is best made using at least three years of data. Varieties selected using data across all locations will likely perform well under a wide range of conditions. However, performance of a given variety will vary based on testing location.
In selecting varieties for a specific location, identify varieties that perform well near the location where the variety will be grown. In the report, Table 4 provides information on which varieties are top performers in each of the five trial locations in 2014 through 2017. MSU Extension recommends selecting and planting two or more varieties.
As an example, planting varieties that differ in flowering date can allow for staggering of management applications, specifically fungicides to control Fusarium head blight. When selecting varieties, look at disease resistance as well as yield potential.
Summary of wheat crop
Where wheat followed soybeans, planting was delayed in many parts of the state due to green stems not drying out in soybeans. Weather conditions in the fall made it tough to get wheat planted early. Overall, wheat survived the winter very well with only small pockets of winter injury.
Wet conditions in March and April created waterlogging in many counties. Unseasonably warm temperatures early in the spring helped wheat to break dormancy and advance in growth rapidly with growth stages being reached about two weeks early. However, cool weather in the latter half of April and May slowed development back to normal rates. Periodic rain showers extended the 2017 harvest to as long as three weeks.
Test weights were variable with reports between 55 and 61. Deoxynivalenol (DON) levels were very low. Falling numbers were a big problem early in the harvest season, but after the early planted wheat was harvested, became less of a problem overall. Some farmers reported falling numbers as low as 165.
Trial management practices
All seed was treated, but the chemicals and rates used varied according to the preferences of the originating organization. Seeding rates per linear foot of row were standardized to the rate that would equate with a stand of 2 million seeds per acre in a solid stand planted in 7.5-inch rows.
Fall fertilizer application varied with cooperator practice. Spring nitrogen was applied as urea (90 pounds per acre actual nitrogen) at green-up and Affinity BroadSpec was used for weed control at all sites. All sites were coordinated under high management with the exception of an additional conventionally managed trial at Tuscola County. Under high management, an additional 30 pounds of nitrogen was applied using streamer bars and 28 percent nitrogen.
Quilt was applied at Feekes 8.5 – 9 to control lower-canopy and early-season diseases. Prosaro was applied to control late-season fungal diseases. The timing of the Prosaro application coincided with the average flowering date of the trial location.
For questions regarding the trials, variety selection or any other questions, please contact Dennis Pennington at pennin34@msu.edu or Eric Olson at eolson@msu.edu.