2017 Upper Peninsula pearl millet trial
Investigating best management practices for optimizing pearl millet growth in Michigan's Upper Peninsula.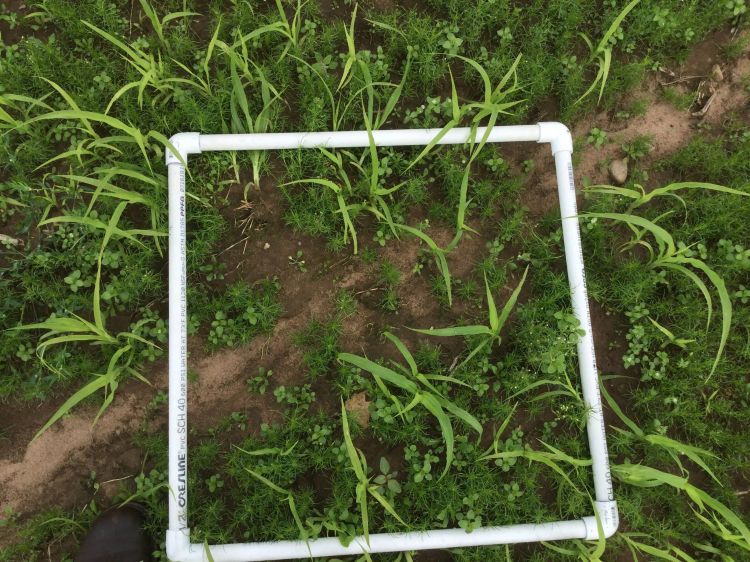 For the past two seasons, Michigan State University Extension has coordinated a grass cover crop demonstration trial at a seed potato farm in Hardwood, Michigan. In addition, the seed potato farm has been planting various millet species on a larger scale in the year before potatoes. Though pleased with the millet biomass production overall, it is unclear how planting time and mowing impacts biomass production at this northern latitude.
The 2017 research trial was designed to look at the effect of planting rates and mowing frequency on biomass production. An abnormally rainy season complicated the trial (Table 1), however the results still provided input for making recommendation and direction for future research.
Table 1. Monthly precipitation totals for 2017
and 24-year average precipitation totals in Escanaba, MI.

Month

Precipitation total
(inches)

24-year* precipitation
average (inches)

May

4.11

2.75

June

7.06

2.79

July

2.38

3.27

August

3.99

3.67

September

2.83

3.30
*1971-1994; available at MSU Climatologist's Escanaba station.
The Canadian Forage Pearl Millet 101 cultivar was planted June 13, 2017, at a rate of 15 and 22 pounds per acre. Cover crop emergence was recorded one month after planting by counting number of plants within a quadrant (Photo 1). On Aug. 22, half the plots had above-ground biomass recorded and were mown. Prior to termination and frost (Sept. 11), above- and below-ground biomass were estimated.
Results showed no difference in emergence between the two planting rates one month after planting. It is suspected that the lack of difference in emergence was related to heavy rains following planting, causing detrimental seed movement (Photo 1) or soil crusting. At the time of termination, average pearl millet heights in the unmown plots ranged from 20-52 inches, while the mown plots ranged from 12-20 inches (Photo 2). With a mowing height of approximately 5 inches, this equates to 7-15 inches of regrowth during the final three weeks of the season.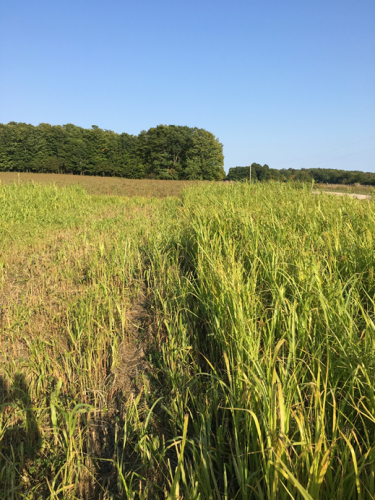 Differences in below-ground biomass were observed between the mown (300 pounds per acre) and unmown plots (626 pounds per acre). These differences could be due to underground resources being utilized for regrowth and root degradation of plants killed by mowing. Mowing the warm-season grass late in the season was not found to benefit total biomass production due to advanced growth stage and low growing degree-day accumulations. Continued research is planned for 2018 looking at other species of warm-season grasses and earlier mowing dates.
For more information on cover crops, visit MSU Cover Crops or Midwest Cover Crop Council.
For further questions and inquires, email Erin Hill at hiller12@msu.edu or Monica Jean at atkinmon@anr.msu.edu.