2020 Status of the Industry: Michigan's commercial fishing and fish processing businesses
What does commercial fishing and fish processing look like in Michigan and how did the pandemic impact the industry in 2020?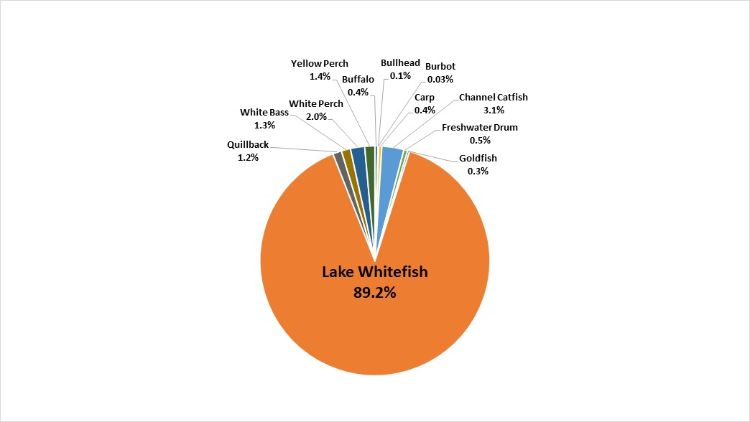 From yellow perch to the versatile lake whitefish, there are a wide variety of delicious food fish to be found in the Great Lakes region. In addition to recreational fishing, commercial fishing, or the harvesting of large volumes of various fish species for commercial profit, has been an important industry in the international Great Lakes waters for over the last 100 years. Today, however, there are only a handful of commercial fishing operations compared to the once active fleet of 1,800 vessels.
Although the industry has been around for a very long time, there is limited, readily available information on how many license holders are actually active, the number of employees, and what species are harvested and/or produce the highest profit. In addition, Michigan's local fisheries were negatively impacted in 2020 due to the coronavirus, which causes the disease COVID-19. Uncertainty and state of Michigan orders which included restrictions for restaurants and other food service establishments disrupted food supply chains as well as limited opportunities for local tourism activities. To help address these challenges, Michigan Sea Grant applied for and received a $100,000 COVID-19 rapid response grant from the National Sea Grant Office which aimed to help assess the aquaculture, commercial fishing, and charter fishing industries in Michigan in response to 2020 impacts. In this article we share a summary from a needs assessment on state-licensed commercial fishers and some fish processors in Michigan during 2020. The infographics shown on the status of the industry are also available full size online: Michigan commercial fisheries, Michigan seafood producers.Commercial fishing in Michigan
Commercial fishing in Michigan
Nearly all of Michigan's commercial fishing industry operates as multi-generational, small, family owned

businesses. Operations are licensed either through Michigan state agencies or through Tribal Nations. Data collected pertaining to Tribal Nation commercial fisheries is still ongoing, so this article will focus specifically on the state-licensed fishery.
In 2020, commercial fishing operations held 51 state licenses, providing 89 jobs. Although there are 51 licenses, not all license holders are actively fishing and some businesses hold multiple licenses. In 2020, there were 16 active businesses in which 13 businesses received their primary income from commercial fishing. These 16 businesses harvested 1.9 million pounds of fish which has a dockside value of $4.18 million. Dockside value is the average price per pound of fish based on the species "at the dock" before any seafood processing (e.g., fillets) or creation of value-added products (e.g., smoked fish). Yellow perch had the highest dockside value of $2.93/pound, which was followed by lake whitefish for $2.35/pound. Lake whitefish, a traditional common go-to on many Michigan restaurant menus, made up 89 percent of the fish harvested and more than 95 percent of the 2020 dockside sales.
Seafood processing in Michigan
In 2020, there was a major industry marketing shift from wholesale to direct to consumer, as commercial
fishers found they earn more money if they sell value-added products (e.g., smoked fish dip, fish patties) in retail markets. Thus, most commercial fishers also include their own, on-site processing facilities. Michigan seafood processors are regulated based on who they sell to (i.e., wholesale or retail) and may need specific training and/or certifications to sell processed seafood.
In 2020, there were 248 commercial seafood processing operations permitted through Michigan's Department of Agriculture and Rural Development. Seafood processing means preparing, treating, modifying, or using seafood as a food ingredient and, in Michigan, is divided into 3 categories: 1) cutting/eviscerating, 2) preserve/smoking, and 3) egg handling/caviar. There are 223 licenses for cutting/eviscerating which includes small businesses like commercial fishers who fillet their own fish for their fish markets all the way to large grocery chains such as Meijer, Kroger, and D&W Fresh Market. There are 57 licenses for preserving/smoking which tends to include more of the smaller fish market outlets and commercial fishing operations (both state and tribal licenses). Lastly, there are eight licenses for egg handling/caviar which include the larger seafood processors. The larger number of seafood processors compared to fish producers (aquaculture and commercial fishing) illustrates how much seafood is being imported and handled/processed in Michigan before being sold to the consumer. Import data is not available on a state-by-state basis. More information on eating Great Lakes fish can be found on the Michigan Sea Grant website.
COVID-19 impacts
Commercial fishing is purely a food system market. As such, commercial fishers lost anywhere from 26-45 percent in sales and 30-48 percent in volume of fish in 2020. Fishers stated that the new consumer patterns flipped from their typical sales from 80 percent wholesale and 20 percent retail to 20 percent wholesale and 80 percent retail. Once Michigan began to emerge from pandemic restrictions, there was a large fish demand and retail increased sales with fewer fish. Limited information was gathered on COVID-19 impacts to seafood processors as this information was received based on Michigan producers who are also processors, and not focused on the larger chain stores with seafood processing permits.
In December 2020, Cares Act Funding allocated $15M to Great Lakes fisheries. This financial assistance will be used to support Great Lakes aquaculture, commercial fishing, charter fishing, and seafood processors. Allocations of Cares Act funding are yet to be determined, but this information has been reported to decision makers so they can make informed decisions in supporting these industries moving forward. Michigan Sea Grant will continue to work with the commercial fishing, charter fishing and aquaculture industries, as well as recreational fishers, as part of our mission to foster economic growth and protect our coastal and Great Lakes resources.
Michigan Sea Grant is a collaborative effort of the University of Michigan and Michigan State University and its MSU Extension, and is part of the NOAA-National Sea Grant network of 34 university-based programs.
This article was prepared by Extension educator Lauren N. Jescovitch and Elliot Nelson under award NA18OAR4170102 (IRB STUDY00004642) from the National Oceanic and Atmospheric Administration, U.S. Department of Commerce through the Regents of the University of Michigan. The statements, findings, conclusions, and recommendations are those of the author(s) and do not necessarily reflect the views of the National Oceanic and Atmospheric Administration, the Department of Commerce, or the Regents of the University of Michigan.