2021-22 FCWG Learning Exchange Series: Forest Protection for Carbon Mitigation: Data and Approaches to Maximize Impact
In this webinar, speakers Abigail Weinberg and Jennifer Melville from Open Space Institute present "Forest Protection for Carbon Mitigation: Data and Approaches to Maximize Impact."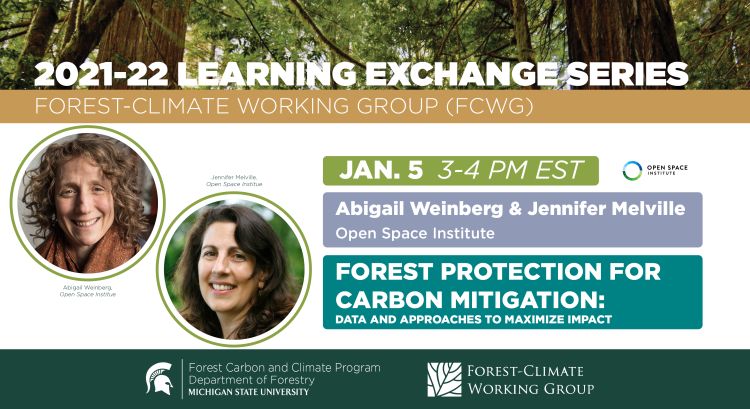 Title
Forest Protection for Carbon Mitigation: Data and Approaches to Maximize Impact
Speakers
Abigail Weinberg develops science-based approaches to climate change and water quality for foundations, non-profits and public agencies as Director of Conservation Research for the Open Space Institute (OSI). Abby advances research, outreach, and grant programs to clarify how local land protection can contribute to landscape-scale solutions to climate change, water quality and, more recently, land-based inequities. Her work guides OSI's land protection capital grants, informing placement of millions of dollars for land protection across the Eastern U.S. each year. Abby has a Master of Forestry degree from the Yale School of Forestry and Bachelors from St. John's College (the "Great Books School"), Santa Fe.
Jennifer Melville has been working to conserve land for wildlife and people in New England for three decades. She currently holds a dual role with the Open Space Institute: Vice President, Conservation Grants and New England/Southern Canada Field Coordinator. Jennifer develops and provides oversight for OSI re-grant programs from Southern Canada to Alabama and directs OSI's work in New England. On behalf of OSI, she participates in First Light, the executive committee of Sebago Clean Waters, the coordinating committee for the Network for Landscape Conservation, and the steering committee for the Appalachian Trail Landscape Partnership. Before joining OSI in 2008, Jennifer worked for the Trust for Public Land, establishing TPL's Maine field office and conserving iconic places such as Tumbledown Mountain, Scarborough Beach and the Sabbathday Lake Shaker Village. Previously, she served as Conservation Director at the Appalachian Mountain Club and as a planner for the Massachusetts Department of Environmental Management. She is a graduate of the University of California, Berkeley, holds an MA from the Yale School of Forestry and Environmental Studies and lives and works in Southern Maine. Her volunteer activities include serving as Vice President for Maine Conservation Voters, as advisory board member of Wildlandscapes International and passivhaus Maine, and as an easement steward for the Freeport Conservation Trust.
Supplementary Materials
Recording