4-H Military family book sheet
My dad's a hero.
June 19, 2013 - Author: Kendra Moyses, Michigan State University Extension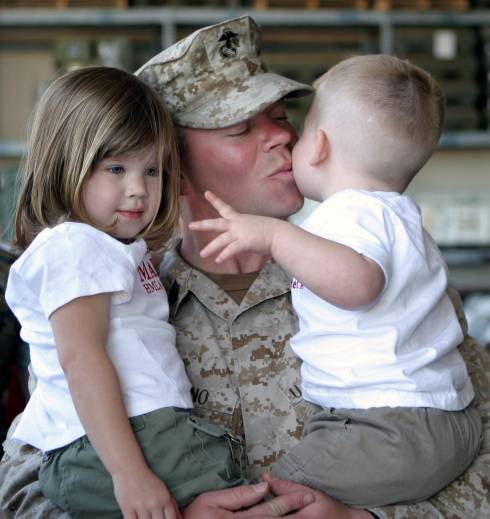 Children's books provide a way for parents, caregivers and young children to learn about deployment and the many changes that happen during a deployment. By reading about other military families, children and situations, they will be able to recognize that they are not alone and that other families are having experiences and feelings. Books also offer an opportunity for parents and caregivers to connect with their young child one-on-one and provide a special time to talk about how the family will adjust to the upcoming changes.
The 4-H Military Family Book Sheets help parents and guardians find books and activities to help their children during the various stages of their service members' deployments. Each book sheet contains a summary of the book, author and publication details, and activities they can use with their children pre-, during or post-deployment to extend the message of the book. To find each book, check with your local library, bookstore or online retailer.
The book Michigan State University Extension is highlighting in this article is My Dad's a Hero, by Rebecca Christiansen and Jewel Armstrong.
Any child who has a dad in the military will benefit from My Dad's a Hero. This book explains what a military dad does while away from his family. It focuses on the positive aspects of military work, and it allows children to be proud of their military dad.
Pre-deployment activities
Look up facts about your service member's deployment location including weather, culture, music, time difference and other information. Discuss the similarities and differences between the deployment location and home. Create a poster depicting similarities on one side and differences on the other.
Use photos or drawings to decorate pillowcases for your child and your service member. Buy iron-on transfer paper and make a personalized pillowcase to keep your service member close to your child through the deployment.
Place a picture of your service member in the front and back of the book.
During-deployment activities
Write letters and draw pictures for your service member during deployment. Send him monthly updates from your child with pictures and drawings.
Send your service member a care package of his favorite candy, books or magazines. Find postal regulations at www.usps.com.
Place two clocks in the house with one set at your time and one set at the time at your service member's location. Talk about the time differences. Discuss what your service member might be doing differently from you at the same time.
Post-deployment activities
Make a sign to welcome home your service member. Include drawings and pictures from each member of the family on the poster.
Have your service member share things he brought back from the deployment such as souvenirs, gifts or photos. Talk about the differences and similarities between the deployment location and home.
If you are looking for more articles about deployment support, check out Finding Support for Children and Youth with Deployed Family Members for a helpful checklist on who might support your child or youth during your service member's deployment. The Emotional Cycle of Deployment explains each stage of the deployment cycle and gives helpful activities you can do to keep your family connected. For more books you can use to support your child during all stages of your service members deployment visit Michigan 4-H Military Partnerships website where you can download the family book sheets for free! You can also find additional deployment support information on the Military OneSource website, the Operation: Military Kids website and the 4-H Military Partnerships website.
---