4-H shooting sports teaches safety and life skills
Michigan 4-H Shooting Sports teaches safety in handling firearms as well as many other life skills.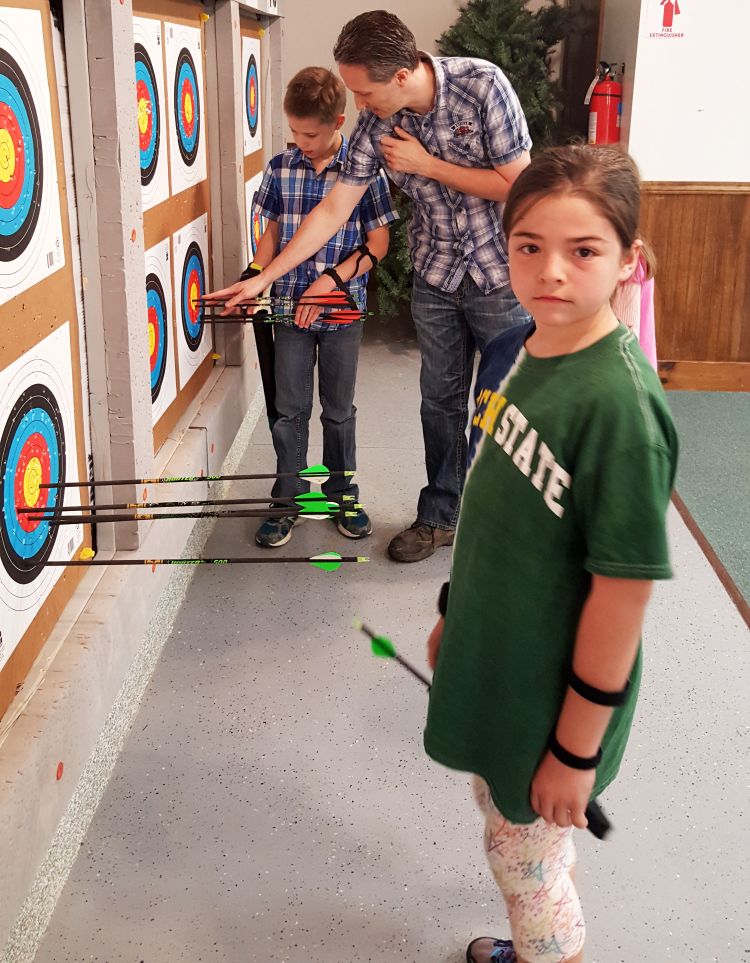 The 4-H State Shooting Sports Tournament held every August offers youth an opportunity to put their skills to test while meeting up with their friends from around Michigan. Volunteers who lead shooting sports activities are certified 4-H shooting sports instructors. Workshops are held throughout the year in various locations so adult and older teen volunteers may earn their certifications in the various disciplines. In the Michigan 4-H Shooting Sports program, members can learn safety and shooting techniques for shotgun, rifle, air gun, muzzle loading and archery.
Emily Malcolm of Van Buren County was our 2016 State 4-H Award winner in Environmental and Earth Sciences. As she reflected on her experiences, she shared, "I gained knowledge from shooting sports that I can apply to my life outside of 4-H as well. In shooting sports, I learned the importance of safety. Safety is very important when shooting any type of firearm or archery. I can apply the importance of safety to my life outside of 4-H because I always need to look out for my own safety, as well as the safety of others. For example, in the summer my family and I enjoy shooting 3-D archery at the Paw Paw Conservation Club. When we go shooting, I apply all of my safety knowledge to ensure the safety of everyone around me, as well as myself."
Malcolm also said, "4-H not only gives you awesome opportunities, but it also develops you as a person. My self-esteem has increased greatly since I have been involved in 4-H. I used to worry about what others thought about me, but the people in 4-H accept you for who you are. It also helped me become more confident."
As a shooting sports volunteer, I am pleased to hear Malcolm takes the safety aspect seriously and discusses in her awards application that she works with younger members practicing good safety techniques. Teen leaders like Malcolm are role models for other members and can be found around the state in a variety of project areas.
When youth are participating in projects and have the opportunity to learn alongside youth of varying ages, magic happens. The younger youth look up to those teens and aspire to be like them and take direction in whole new way. The approach youth may take with a younger member can make all the difference. Older youth can be encouraged when they see the younger member develop skills from week to week under their guidance.
The objectives of the Michigan 4-H Shooting Sports program are to:
Encourage participation in environmental and outdoor education programs by exposing youth to shooting, hunting and other related activities.
Support youth in developing valuable conservation and natural resources related knowledge, skills and stewardship.
Enhance development of self-concept, character and personal growth through safe, educational and socially acceptable involvement in shooting.
Teach safe and responsible use of firearms and archery equipment.
Promote the highest standards of safety, sportsmanship, ethical behavior and conservation.
Strengthen families through participation in lifelong recreational activities.
Provide hands-on learning experiences.
Share your love of archery with the next generation. Inspire others to handle firearms safely and enjoy the art of trap, skeet and muzzle loading. If this sounds appealing to you, consider volunteering with us to make a difference in your community by becoming a 4-H volunteer with Michigan State University Extension.
Visit the Michigan 4-H Shooting Sports program website or contact your local MSU Extension office for more information.