A successful Michigan niche-food maker shares profits to end child hunger
In just one year, Crunch Granola, a Michigan-based maker of all natural, gluten-free granola products, has tripled the number of meals donated to the cause of feeding hungry children.
Christine Stamper formed Crunch Granola, a Wolverine Lake, Mich. business producing all natural, hand crafted, gluten-free granola in January 2012. Stamper's enterprise began at Incu-BaKe, an incubator kitchen established in Holt, Mich. by Marcy Bishop Kates to nurture the development of new, food-related businesses. Both ventures are thriving and Crunch Granola continues to be hand-crafted by Stamper in Incu-BaKe's busy kitchen.
But Stamper had more than a vision of a profitable venture. She wanted to use her new enterprise as a way to support the cause of ending child hunger.
Fifty percent of Crunch Granola's profits are donated to the Forgotten Harvest food bank as well as profits from Lansing-area sales go to the Greater Lansing Food Bank. Stamper estimates that for every 12-ounce bag of granola sold, she generates two donated meals.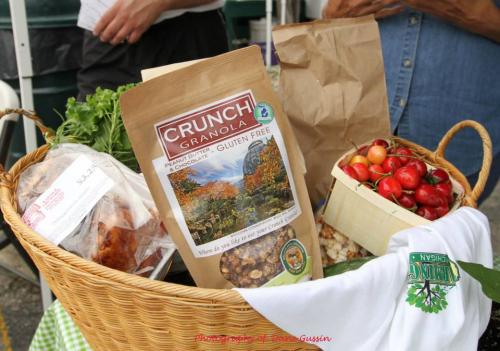 Photo credit: Crunch Granola's Facebook page.
What kind of impact is Crunch Granola actually making? Its website reported on October 9, 2013 that 38,778 meals were donated as of September 2013. This is a tremendous increase over September 2012 when Crunch Granola reported a donation of 12,380 meals!
The many flavors of Crunch Granola are made with gluten-free ingredients and contain no artificial flavors, colors, cholesterol, trans-fats, hydrogenated oils, high fructose corn syrup or artificial preservatives. Crunch Granola's website provides a list of stores and farmers markets where their products can be purchased.
Aspiring food entrepreneurs can receive technical assistance from the Michigan State University (MSU) Product Center. The Product Center, funded in part by Michigan State University Extension, helps Michigan entrepreneurs develop and commercialize high-value, consumer-responsive products and businesses in the agriculture, natural resources and bio-economy sectors.