Above normal temperatures accelerate corn development
Michigan's 2016 corn crop is maturing ahead of schedule in spite of the late start.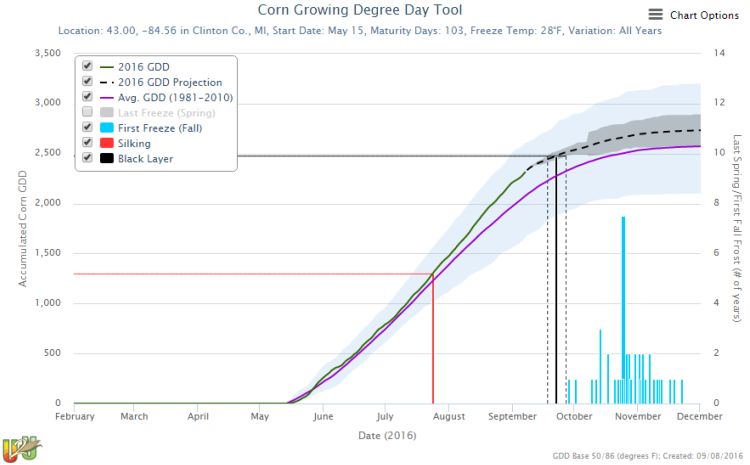 According to the USDA Michigan Crop Weather for May 2, 2016, "There were 2.8 days suitable for fieldwork in Michigan during the week ending May 1, 2016, according to the Great Lakes Regional office of the National Agricultural Statistics Service. Prospects for an early start to spring planting faded as colder than normal temperatures, combined with rain activity most days, limited field work opportunities." This was the way the 2016 growing season began. By mid-May, soils had dried enough that farmers began getting into the fields, and within two weeks, the majority of Michigan's corn and soybeans were planted.
However, the later than normal start to the growing season has been alleviated by above normal temperatures for much of the summer. At the current pace, 103-day corn planted on May 15 is expected to reach black layer on Sept. 23. This is 25 days ahead of the 30-year average (see figure).
Producers can check the progress of their crop by entering planting date and corn maturity and nearest weather station into the U2U Decision Support Tool for Corn Growing Degree Days. This tool uses actual weather station data and producer information for planting date and corn maturity to predict stages of corn development. To learn more about this and other U2U tools, see the Useful to Usable August 2016 newsletter.
Warmer than normal temperatures and variable rainfall made for a stressful growing season. However, the above average growing degree-days should allow corn to mature before a killing frost, removing that worry from the grower's mind.