Protecting Michigan's environment and wildlife through the Conservation Reserve Enhancement Program
The program offers financial benefits for farmers and landowners and environmental improvements for Michigan.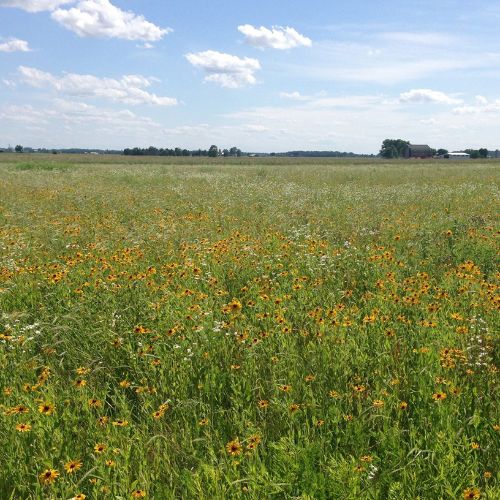 Michigan State University Extension is partnering with the Michigan Department of Agriculture and Rural Development (MDARD), the Farm Service Agency (FSA), the Natural Resource Conservation Service (NRCS) and local conservation districts to support the establishment of the Conservation Reserve Enhancement Program (CREP) in Michigan.
CREP is a federal program that was created to help protect the environment and wildlife. The program offers financial incentives to landowners to remove environmentally sensitive land from agricultural production and make changes on their enrolled land to prevent soil erosion, protect water quality and enhance wildlife habitat. In Michigan, program officials will seek to enroll 85,000 acres in three watersheds in CREP:
Western Lake Erie Basin — Includes all or parts of seven counties in southeast Michigan.
Saginaw Bay — Includes all or parts of 22 counties in east central Lower Michigan.
Lake Macatawa — Includes Allegan and Ottawa counties.
"Our aim is to train and support our conservation partners, technicians and landowners to help get conservation practices on the ground," said Marilyn Thelen, associate director of MSU Extension's agriculture and agribusiness programs. "This is a great opportunity for landowners. They'll have both technical and financial assistance in establishing and maintaining conservation practices that improve their lands and protect Michigan's water."
In Michigan's CREP, farmers and other landowners in priority watershed areas agree to enroll eligible parcels of land in the program for 15 years. They remove the land from production and undertake prescribed conservation practices on it, such as installing riparian buffers, field windbreaks, filter strips, water and sediment control structures, grass plantings, and restoring wetlands. In returns, farmers and other landowners are paid an annual rental rate along with other federal and non-federal incentives.
With a nearly $200,000 grant from MDARD, MSU Extension is developing trainings and educational and promotional materials to support the rollout of CREP in Michigan. The first training sessions will give an overview of the program and describe each collaborator's role in it. Specialized training will be conducted for conservation district technicians on how to successfully establish resource-conserving plant species. The educational and promotional materials will provide Michigan CREP enrollment, agronomic and economic information.
For decades, MSU Extension has been actively involved in conservation research and outreach efforts that affect soil and water quality. MSU Extension professionals will transfer the lessons learned from these efforts to CREP to further help farmers and other landowners reduce nutrient and sediment loss.
The grant funding for the effort runs from Nov. 1, 2020, to Sept. 30, 2021. The team is seeking grant funding of over $200,000 to continue CREP enrollment and projects in Michigan from Oct. 1, 2021, to Sept. 30, 2022.