MSU Product Center helps Michigan food entrepreneurs survive and thrive throughout pandemic
The MSU Product Center has helped Michigan businesses and entrepreneurs grow and adapt to the immense challenges posed by the COVID-19 pandemic and has helped Michigan communities with economic recovery and financial resilience efforts.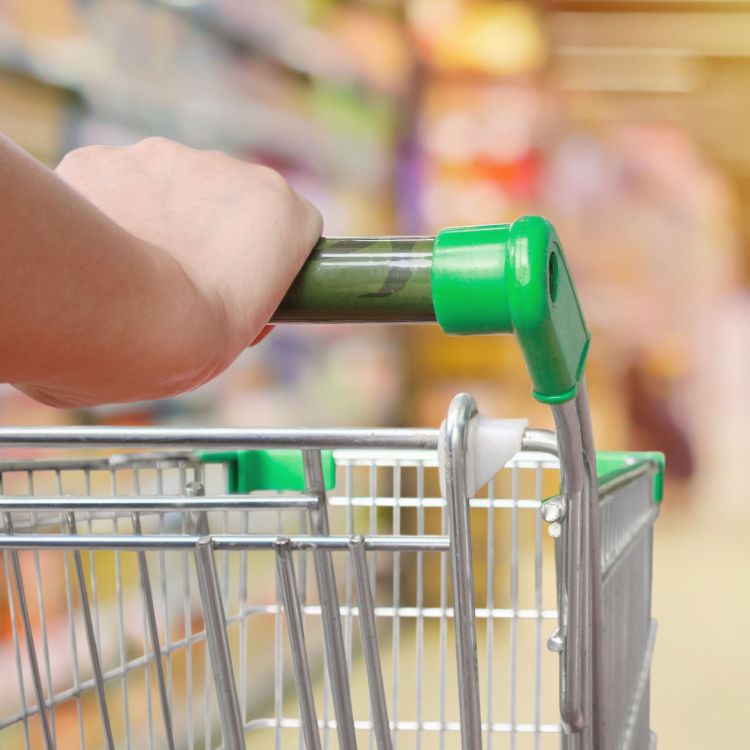 As businesses and entrepreneurs faced the ongoing impacts of the COVID-19 pandemic, the Michigan State University (MSU) Product Center helped their clients accelerate innovation and growth in key economic sectors to help get Michigan back on track.
As part of MSU Extension, the MSU Product Center has strategic partnerships with agencies and organizations such as the MSU Center for Regional Food Systems, the Michigan Good Food Fund, the U.S. Department of Agriculture (USDA) Rural Development program, and the Michigan Department of Agriculture and Rural Development.
MSU Product Center innovation counselors offer business coaching on food, agricultural and natural resources topics ranging from concept development and business planning to navigating regulations and accessing the supply chain. Despite pandemic-related travel and meeting restrictions, counselors worked with 779 clients in nearly 5,500 sessions between July 1, 2020, and June 30, 2021. This coaching helped clients make incredible contributions to their local economies, which in turn benefited Michigan as a whole.
"When so many businesses were staring down the impacts of the pandemic, our Product Center counselors stepped up to support our clients in growing resilient, innovative and thriving businesses across Michigan," said Mollie Woods, director of the MSU Product Center. "As communities everywhere continue their economic recovery efforts, we are proud to have Product Center clients at the forefront, leading the charge into the next chapter for Michigan food, agriculture and natural resource businesses."
Between July 1, 2020, and June 30, 2021, MSU Product Center clients started 54 new ventures and launched 61 new products. These business successes:
Helped create nearly 448 jobs.
Helped retain more than 100 existing jobs.
Contributed directly to more than $44.1 million in capital formation.
In addition to business coaching, the MSU Product Center offers specialized, campus-based services in areas such as product classification and process authority review, nutritional analysis and labeling, food processing and safety, and packaging. Between July 1, 2020, and June 30, 2021, these services helped clients qualify for 69 new licenses that are vital to their businesses.
Leading the way through pandemic hardships
As Michigan's economy stalled and its entrepreneurs and businesses faced increasing hardships caused by the spread of COVID-19, the MSU Product Center provided the resources and knowledge their clients needed to innovate and thrive during this "new normal."
The center demonstrated its versatility by going virtual with its two largest annual events: the Cook, Share and Prosper Summit in fall 2020 and the Making It in Michigan Conference and Trade Show in spring 2021. The virtual events offered their usual range of informative industry sessions, augmented by sessions focused on helping participants learn to adapt their business pitch to a virtual format, strengthen their e-commerce capacity, identify hidden shipping and packaging costs to avoid, and leverage social media to influence consumers.
Setting an award-winning example
Entrepreneurs and businesses who are clients of the MSU Product Center routinely demonstrate drive, ambition, and the will to succeed. Each year, the MSU Product Center recognizes a few clients who stand out for their spirit of innovation, creativity and achievements. This section profiles several entrepreneurs and businesses who received awards at the 2020 Cook, Share and Prosper Summit and at the 2021 Making It in Michigan Conference and Trade Show.
2020 Minority Business Award: Ashleigh Evans
Ashleigh Evans is the founder and CEO of InBooze Cocktail Kits, based in Grandville, Michigan. Evans has created a successful product line of nearly 20 varieties of cocktail or "mocktail" infusion kits featuring dehydrated fruits, spices and herbs.
Evans recognized that businesses and organizations were looking for ways to show appreciation for their employees and conference participants through creative stay-at-home gifts and kits. She leveraged the resources and professional expertise of the MSU Product Center to meet this need, shifting from in-person retail sales while adapting and growing the reach of her business and customer base.
"Ashleigh is a great example of a passionate entrepreneur," said Kendra Wills, the MSU Product Center innovation counselor who worked with Evans. "She builds on her strengths, which include social media, marketing and the culinary arts, and is willing to put in the hours and drive time needed to get her product in front of as many people as possible."
InBooze Cocktail Kits can now be found in more than 300 stores nationwide, including Macy's. The kits have been featured in Buzzfeed, Cosmopolitan, Good Housekeeping, Women's Health Magazine, and have been recognized by Oprah Winfrey.
Evans received the 2020 MSU Product Center Minority Business Award. The award recognizes an MSU Product Center client that is an emerging or established minority-owned business that has demonstrated excellence, innovation, and growth.
2021 Barrier Buster Award: Caley Gunthorpe
Caley Gunthorpe turned what was once her hobby — brewing kombucha — into a thriving, successful business. Gunthorpe opened the doors of the Apple Blossom Kombucha taproom in Lansing, Michigan, in 2020, despite restrictions on food service businesses intended to curb the spread of COVID-19.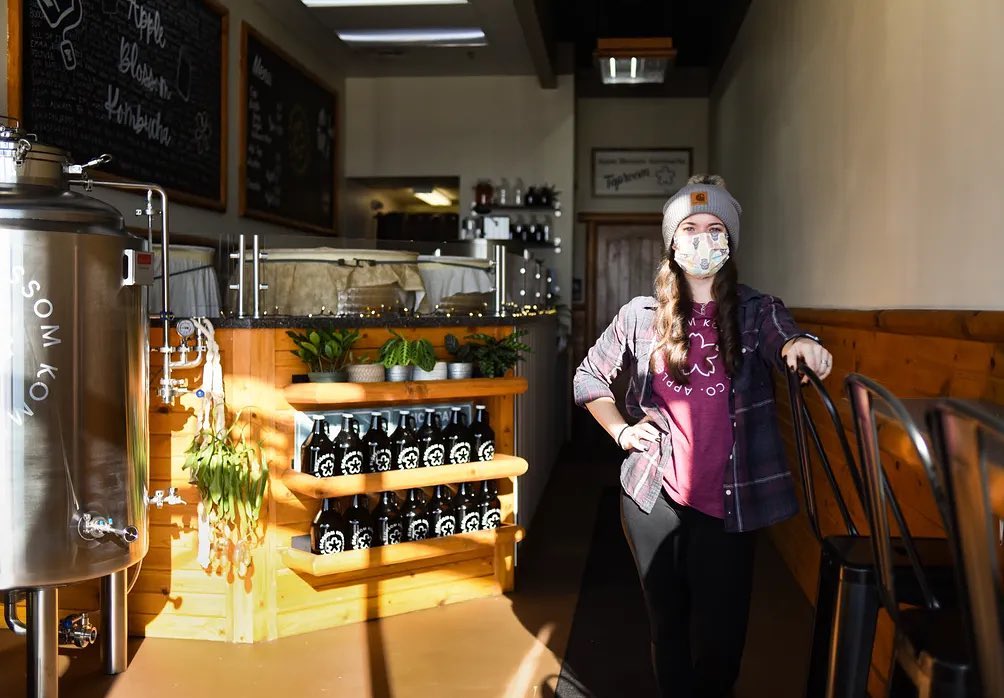 "I've worked hard to be where I am and have overcome a lot of challenges," said Gunthorpe.
The taproom is the first of its kind in the Lansing area. The business also sells bottled kombucha in 11 retail stores and from booths at three farmers markets, which helps Gunthorpe build relationships with customers. In addition to opening her taproom, Gunthorpe has now grown her retail portfolio to include 11 locations along with three farmers markets where she is able to connect directly with her customers and build lasting relationships for years to come.
For Gunthorpe's perseverance and success in overcoming many obstacles, Apple Blossom Kombucha received the 2021 MSU Product Center Barrier Buster Award. The award recognizes an MSU Product Center client that reduces or eliminates barriers to entrepreneurial success at the local, regional, or state level.
2020 Best Covid-19 Pivot Award: David & Kathy Coveyou
The effects of COVID-19 reached all the way back to the farm, but this isn't the first pandemic that Coveyou Scenic Farm has faced in its 150 years in business.
Nevertheless, the realities of COVID-19 greatly disrupted David and Kathy Coveyou's business model for the farm, which is located in Petoskey, Michigan. About 60% of their pre-pandemic sales happened at farmers markets, at their on-farm store, or through small-scale distribution to area restaurants. With travel, meeting, and restaurant restrictions multiplying as the pandemic progressed, the Coveyous needed to look for creative ways to overcome the drastic reduction in farm income. They quickly became an approved vendor for the USDA Farmer to Families Food Box Program.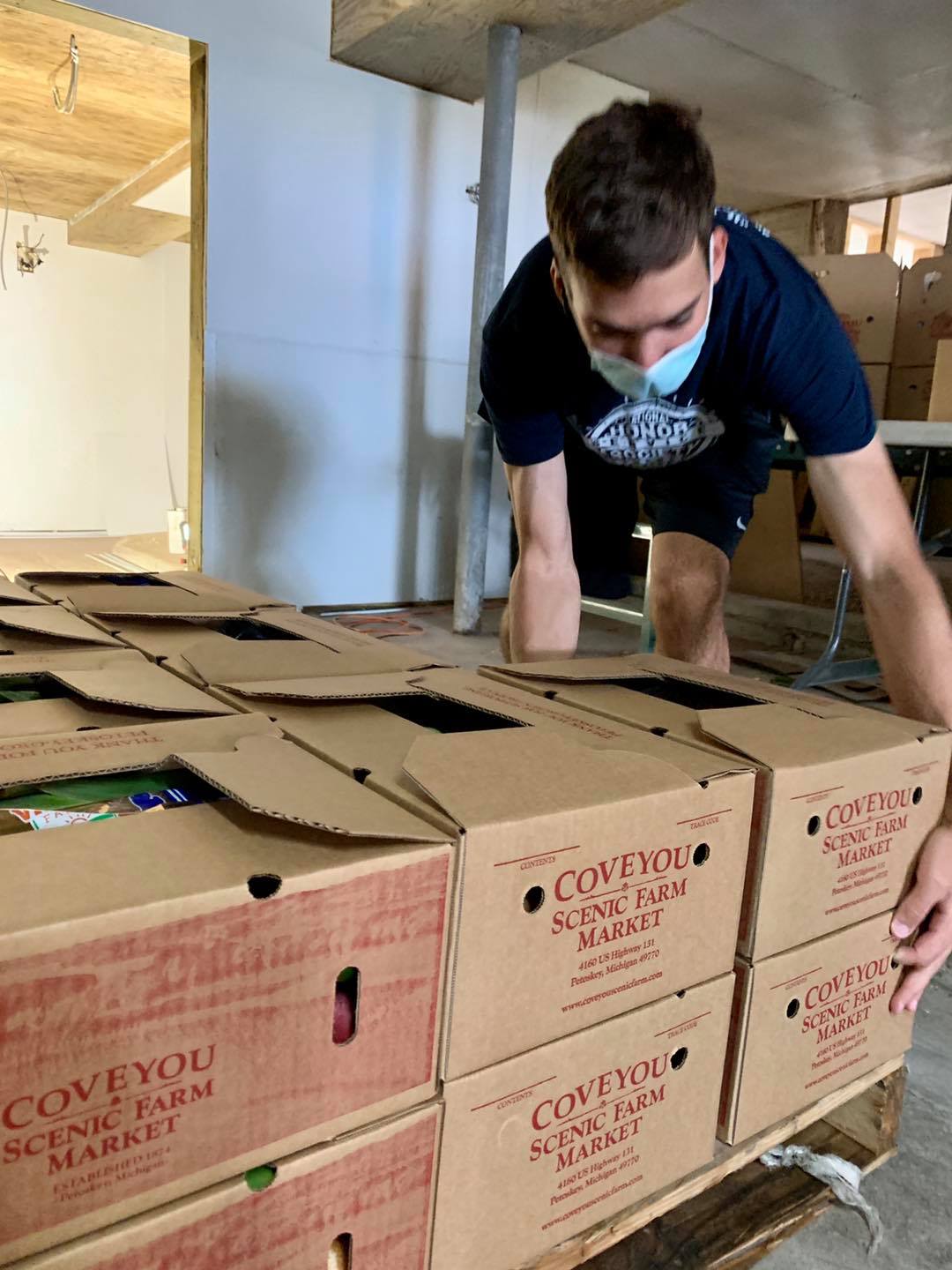 This federal program authorized the USDA to buy produce, dairy and meat products from farmers for distribution to local food banks and nonprofits. The organizations then distributed the food to American families and households in need.
Coveyou Scenic Farm worked with Manna Food Project, a food bank based in Harbor Springs, Michigan, to fill almost 18,000 family-sized food boxes with fresh, local, high-quality produce. An estimated 4,000 food-insecure families in Charlevoix, Antrim and Emmet counties received the boxes between June and September 2020.
"Some of the least fortunate people in our community were receiving superb quality, certified organic produce on their tables less than 24 hours after it was harvested — produce that was fresher than the most financially fortunate in our community would be able to buy in a grocery store," said David Coveyou.
The pivot to supplying produce for food boxes at the height of the pandemic also allowed the Coveyous to concentrate on expanding their farm's market and retail space and growing their customer base and sales.
For the incredible resilience and adaptability they demonstrated in the face of great business uncertainty, David and Kathy Coveyou received the 2020 MSU Product Center Best COVID-19 Pivot Award. The award recognizes Michigan food and farming businesses that have demonstrated excellence, innovation, and growth during a most challenging year.
2021 Entrepreneur of the Year: Littlefoot Coffee Roasters
Alex Burbo and Rosie Quasarano know the value of a good cup of coffee — and of lending a helping hand. Their business, Littlefoot Coffee Roasters, is based in Grandville, Michigan, where the pair organized the Coffee With a Cause campaign, which raised more than $4,000 for cafés, coffee shops and nonprofits struggling through the COVID-19 pandemic. The business donated more than 120 pounds of coffee to other cafés to help them reopen after many of the pandemic-related restrictions on food businesses were loosened in 2021. Littlefoot is also lending a helping hand to two other women-owned coffee companies by roasting for their private labels.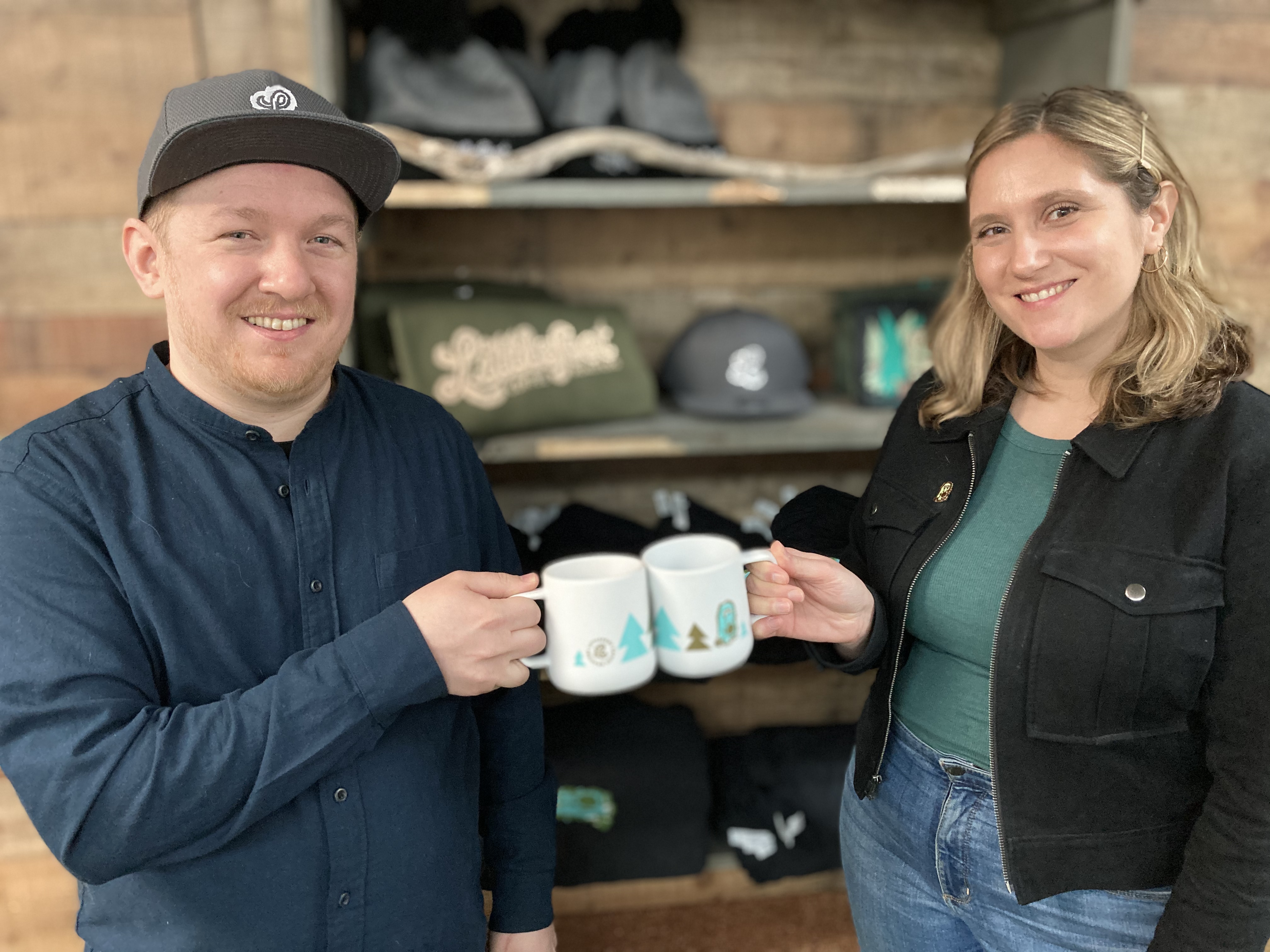 For their innovative business success, their growth in the face of the COVID-19 pandemic and their commitment to supporting others in their community, Littlefoot Coffee Roasters received the MSU Product Center 2021 Entrepreneur of the Year Award. The award recognizes an emerging MSU Product Center client business that has achieved unique accomplishments and growth.
"We are honored to receive this award from the Product Center," said Quasarano. "This has been a challenging year in so many ways, and we're extremely grateful to all of our supportive customers, the incredible coffee farmers we work with, and our strong wholesale partners. Together we got through it."
Burbo and Quasarano launched their business in 2017 and opened their Grandville warehouse two years later. Today, Littlefoot Coffee can be found in more than 20 stores throughout Michigan, including select Meijer stores and Westborn Markets. The company also offers a coffee subscription service.
Securing a place as a Michigan business powerhouse
InBooze Cocktail Kits, Apple Blossom Kombucha, Coveyou Scenic Farm and Littlefoot Coffee Roasters serve as just a few of the hundreds of successful clients the MSU Product Center has lent their collective expertise and countless resources to. Since it was founded in 2003, the MSU Product Center has assisted in business expansions resulting in total investments of $501 million and the creation of 3,163 jobs, thus securing its place in Michigan and beyond as a product and business development powerhouse that is integral to a healthy, resilient economy at the local, regional and state levels.