Apple Blossom Kombucha receives Barrier Buster Award
A young woman business owner breaks through obstacles to grow a thriving local business.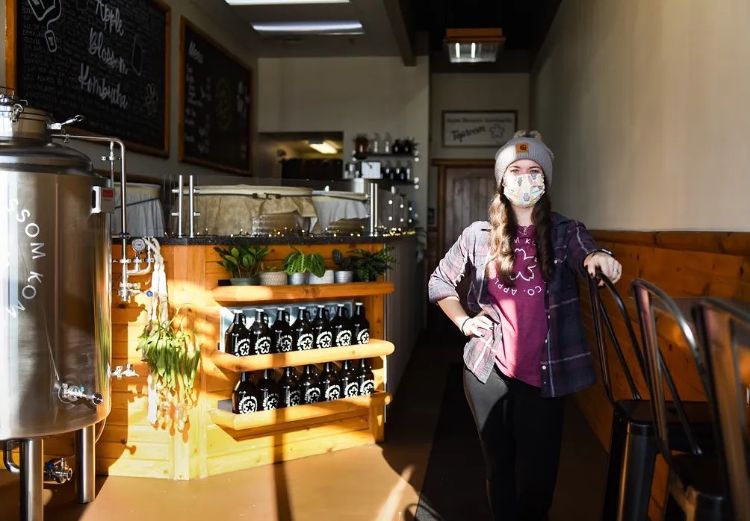 Apple Blossom Kombucha received the 2021 Barrier Buster Award from the Michigan State University Product Center and Michigan State University Extension on May 6, 2021. The award was presented during the virtual Making It In Michigan Conference.
"I've worked hard to be where I am and have overcome a lot of challenges," Gunthorpe said. "I actually opened my store during COVID, still deliver to stores and have done what I can to stay open."
Caley Gunthorpe is the sole owner of Apple Blossom Kombucha. Her business started as a hobby and quickly transformed into what it is today. As a young female entrepreneur, Gunthorpe has had to overcome many obstacles that stood in her way to get where she is today. Securing funding, dealing with large equipment manufacturers, and breaking stigmas about young business owners has been a feat. The recent pandemic has added additional barriers for her new taproom, as well as making the process of sourcing glass and many of her ingredients nearly impossible.
In 2020, she opened a kombucha taproom (the first of its kind!) in Lansing. Even though opening the taproom coincided with restrictions on food service businesses, Gunthorpe's business is still thriving. She continues to sell her bottled kombucha in over 11 retail locations and continues to attend five farmers markets to build relationships with consumers.
Apple Blossom Kombucha prides itself on being hyper local. Gunthorpe sources all of her ingredients she uses to flavor her kombucha from a Michigan farmer she knows and trusts. Not only are her ingredients local, but everything down to her bottles, caps, labels, boxes, and much of her equipment are locally sourced!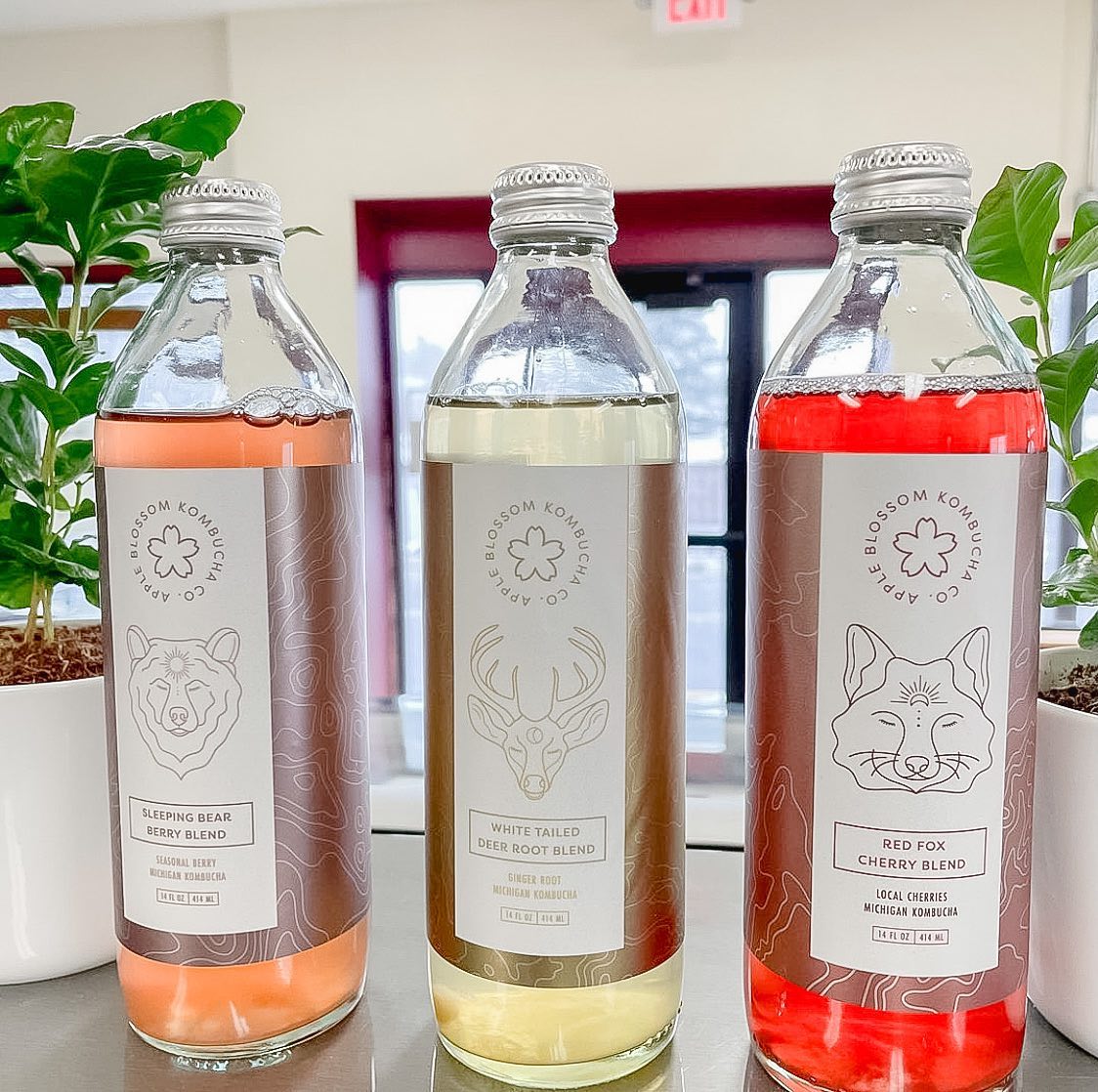 Gunthorpe is growing far faster than she expected and is striving to turn her newfound success into a sustainable future. In an effort to grow the business, she plans to hire some passionate individuals to help manage the business, make wholesale deliveries, brew, bottle, attend farmers markets, and manage the taproom.
The Barrier Buster Award recognizes a Product Center client that reduces or eliminates barriers to entrepreneurial success at the local, regional, or state level.
"Caley is a perfect example of a female owned business that is actually thriving despite the obstacles she has had to overcome and is still faced with on a weekly basis. From sourcing local farm ingredients to her company name and branding, she is definitely a business committed to Michigan," Mollie Woods, director of the MSU Product Center said.
The Making It In Michigan conference featured in depth educational sessions, networking opportunities and take-home resources for Michigan's first and second stage food processors. The program also included a pitch competition with the Michigan Good Food Fund and an MSU chef recipe showdown in partnership with the Michigan Bean Commission.
In addition to the educational offerings, a virtual trade show provided a venue for food entrepreneurs to promote their products and make connections with buyers. The Michigan Department of Agriculture and Rural Development and the Michigan Economic Development Corporation partnered with the Product Center to offer a unique matchmaking opportunity for buyers and sellers.
Learn more about Gunthorpe and Apple Blossom Kombucha by viewing her awards video, her website or social media accounts:
Michigan State University Extension and the MSU Product Center assist entrepreneurs and businesses to develop products and services in the food and agriculture markets. Its team of experts consults with clients on a one-on-one basis, helping new entrepreneurs navigate from concept development to launch and beyond. The MSU Product Center also offers specialized services such as labeling, packaging, and nutritional analysis. If you are interested in business counseling from the MSU Product Center, please visit our website at www.canr.msu.edu/productcenter or call 517-432-8750.