The 12th Annual Making It In Michigan Conference and Marketplace Trade Show will be Wednesday, November 13, 2019 at the Lansing Center, 333 E Michigan Ave, Lansing, MI 48933.
Register for the Making it in Michigan Conference
Register Your Booth at the Trade Show
If you are interested in starting or expanding a food business, the Conference provides you with 11 different educational strategies covering product development, marketing and compliance. You will also have the opportunity to learn from and engage with retailers and distributors on determining the right placement strategies for your products.
Hear what other conference attendees have said about participation:
"If you want to want to be a part of the growing food scene in Michigan, attending the Making It In Michigan conference is a must."- Andrew Chmielewski, Dave's Sweet Tooth
"The Making It In Michigan conference has helped me build some great relationships and got the word out about my company." - Scott Christ, Pure Food Company
As a result of the 2018 Making It In Michigan conference, attendees plan to:
Develop a new food product or business
Launch a food product for retail sale from their food service business
Develop/update marketing plan
Contact retailers to market their product
Develop/update Nutrition Facts labels for their products
Learn more about how the Making It In Michigan Conference can help launch or grow your food or agriculture product business.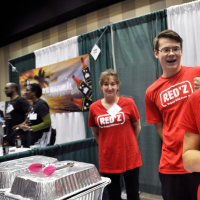 Conference is Nov. 13 at the Lansing Center and space for both educational sessions and vendor space is limited.
The Marketplace Trade Show is invaluable opportunity for telling your story and showcasing your market-ready product to potential retail buyers. Becoming a vendor at the Marketplace Trade Show gives you exposure to:
Retail buyers: large supermarket chains or institutional food buyers, independent grocers, specialty food stores
General consumers
Brokers
Distributors
Food Cooperatives
Chefs
Past Marketplace Trade Show exhibitors have said:
"We attended the Making It In Michigan Marketplace trade show, which was a great opportunity to meet the decision makers at large and small stores and have benefited tremendously from that opportunity." - Monica Randles, Nutcase Vegan Meats
"We've made some great contacts and met new customers at the Making It In Michigan Marketplace trade show and have become connected with some excellent resources in the industry." - Marshall and Elliot Rader, The Gluten Free Bar
Vendors at the 2018 Making It In Michigan Marketplace Trade Show reported:
Receipt of new orders
Contacts established which led to future orders
Networked with other vendors that benefited their business in some way
Michigan's premier specialty food conference and marketplace trade show.
In the Spotlight
Published on November 15, 2019

Published on October 18, 2019

Published on October 10, 2019