Advancing Michigan farmers markets
For over three years, MSU Extension has partnered with the Michigan Farmers Market Association to support the growth of our local food system.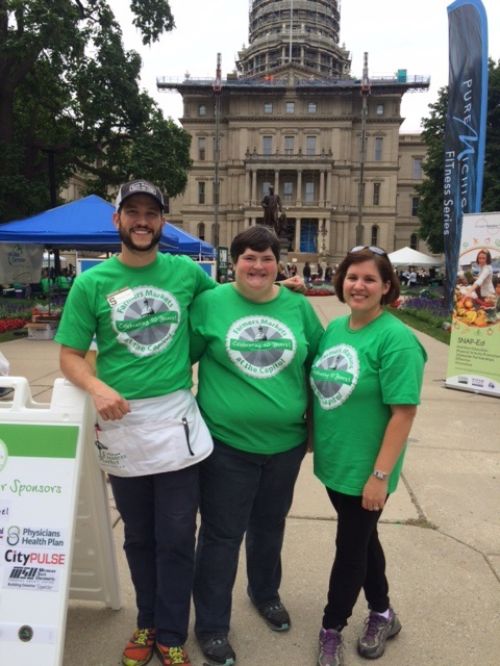 Michigan State University Extension educator Julie Darnton started working with the Downtown Saginaw Farmers' Market in 2008 to assist the Market's Board of Directors with their plan for development and expansion to a permanent site. She then expanded her work to Genesee County in 2009 working with urban farmers growing for the Flint Farmers Market. Through this work, Darnton became passionate about farmers markets as community centers.
"Farmers markets appeal to me because they are spaces that welcome everyone – in Saginaw you can see neighbors and friends having chance meetings and families shopping together. And I love food – I love to cook and learn about food, I love to talk about recipes and I love to share that passion with other people," said Darnton.
In 2012, Darnton was elected to the board of the Michigan Farmers Market Association (MIFMA). As a board member she has served as Vice President and is a member of the Professional Development Committee. In 2014, fellow MSU Extension colleagues Michelle Walk and I joined MIFMA's Professional Development Committee. This committee helps to plan and deliver educational workshops to MIFMA members, which include farmers market managers and farmers and ag-based businesses that sell at farmers markets.
Darnton, Walk and I are members of Michigan State University Extension's Community Food Systems Work Team, which focuses on growing Michigan's local food system using the goals and strategies outlined in the Michigan Good Food Charter.
Farmers markets contribute toward the goals of the Charter by helping to increase sales and purchases of Michigan grown and processed foods, serving as incubator and retail spaces for new agri-food businesses and providing greater access to affordable, fresh and healthy food. The number of farmers markets in Michigan has grown significantly. MIFMA data shows there were 90 markets in 2001 and over 300 today.
"The partnership between MIFMA and MSUE has been a natural fit as both organizations are focused on providing quality professional development opportunities for individuals involved in community food systems. We work together to maximize opportunities that strengthen farmers markets – from organizing on-farm events to hosting Market Manager Certificate Program webinars, said Dru Montri, MIFMA Executive Director. "I think our shared passion makes it fun and effective to work together."
Michigan State University Extension provides research, resources and technical assistance to farmers markets and other projects to increase access to healthy, locally produced foods.