Alcona Community High School students investigate their Black River Watershed
Alcona Community High School environmental science students study local streams as partners in developing a management plan for their local Black River Watershed.
This academic year, Alcona High School environmental science students are often absent from their classrooms. Rather, they might be found wading the waters of local Haynes Creek or elsewhere within their Black River watershed. Students are gaining first-hand knowledge of the river system while collecting and contributing important data to a watershed planning project.
Collaborating with the Northeast Michigan Council of Governments (NEMCOG), Michigan Sea Grant, 4-H Youth Programs, Huron Pines, and others, the monitoring efforts of these students are aimed squarely at developing a watershed management plan for their local Black River Watershed. A great example of place-based education principles in practice, the students gain an invaluable learning experience and, in trade, their community receives a wonderful stewardship contribution.
Initiated in 2010, and continuing through the current school year, Alcona students have taken leadership in sampling and testing water quality at sites along the Black River. Their water quality monitoring efforts are contributing data toward a larger watershed management planning effort facilitated by NEMCOG with funding support through the Michigan Coastal Management Program, administered through the Michigan Department of Environmental Quality and the National Oceanic and Atmospheric Administration (NOAA).
Why Study the Black River? The Black River waterways reflects a relatively small waterway, which is largely understudied – yet important to the Alcona community – as the Black River watershed encompasses a large majority of the natural areas and communities of Alcona County. Recognizing this significance, NEMCOG sought funding through the Michigan Coastal Management Program to work with local community groups and Alcona School students to conduct a watershed inventory and develop a watershed management plan for this coastal waterway. Alcona students, key partners to this project, coordinated with NEMCOG staff and other resource professionals to identify water study sites throughout the watershed to be included in this inventory, and jumped right in – literally – to visit these sampling sites collecting important physical, chemical, and biological water quality information. The data and findings from this project are regularly shared with NEMCOG as part of the larger watershed inventory and planning effort. Students, through their learning, can take pride in their stewardship roles toward protecting our local aquatic environments. Students found this project both educational and fun.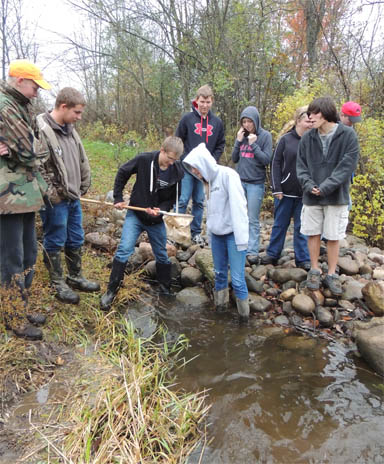 So this is why we need to know science and math! The goals of this student-led project are to test water quality and collect information vital to evaluating the status and health of river habitats. Alcona students are learning about the habitats, ecosystems, plants and organisms that live within this river system. With guidance from resource professionals, students learn about the purpose and goals of watershed planning effort. Once prepared, these volunteers set off for the river to test the waters and record data. At different sites, students collect physical data pertaining to river, including observations of width, depth, flow, stream bank habitats and human influences affecting the river. Other students, using sampling nets, collect aquatic invertebrates as part of a bio-monitoring effort. Learning about these living organisms and their slightly different habitat and water quality requirements, students are able to evaluate water quality of the river through the organisms they collect. Students are capturing a record of ecological biodiversity through a total species count, and, eventually, mathematically calculating a water quality rating for each site based on how common or rare each species is within their samples.
Power in Partnerships! This high school class has contributed valuable data toward a watershed planning project, and is generating community awareness about protecting locally important water environments – and students gain in their own knowledge and learning along the way. Supported through the Northeast Michigan Great Lakes Stewardship Initiative, this project is networked among other schools conducting similar watershed studies, affording them best practices and lessons learned from across this water science learning community. The Michigan State University Extension-led Toyota 4-H20 (and now also the NO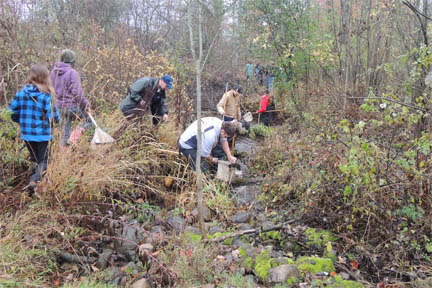 AA B-WET programs) continue to provide teacher training and curricular resources, as well as water quality monitoring equipment and supplies in support of student sampling activities. NEMCOG, Huron Pines, and Michigan Sea Grant provided additional resources and technical assistance toward student efforts as part of the Coastal Management Program funded watershed management planning project. In all, this youth-led effort serves as a great example of the community, environmental, and youth learning benefits resulting from applied place-based education programs built around authentic school-community partnerships!
For more information about the Northeast Michigan Great Lakes Stewardship Initiative (NE MI GLSI), an initiative supported by the Great Lakes Fishery Trust, and place-based education programming partnerships with Alcona Community High School, visit the NE MI GLSI website and the Black River project page.