Conversations with Collaborators Episode 1
Author: Garrett Ziegler,
Michigan State University Extension
Brought to you by Michigan State University Extension, this podcast provides farmers, educators and advocates with stories of how local farmers are collaborating (formally and informally) to create solutions that foster more sustainable and viable businesses for local farmers.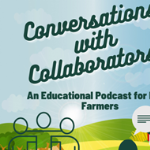 ---
In our very first Conversations with Collaborators Podcast episode we chat with Hannah Weber and Eric Kampe, two of the five "Owners" of Green Things Farm Collective. Eric and Hannah share with us the story behind three separate Ann Arbor local farm business joining forces to create a new collective enterprise. We learn about how existing relationships and trust were utilized to achieve new levels of collaboration and also about the legal structures that were created to ensure those relationships survived this transition.