Alcona students make a splash releasing salmon and exploring nature
Students at Alcona Elementary School wrap up a yearlong project with a trip to the Harrisville Harbor to release their classroom-reared salmon and explore local resources.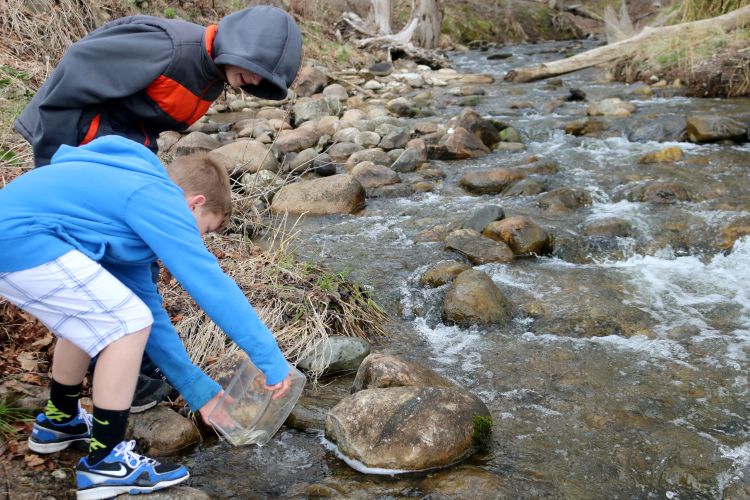 Students at Alcona Elementary School recently completed a yearlong project as part of their partnership with the Northeast Michigan Great Lakes Stewardship Initiative. The program concluded with a trip to the Harrisville Harbor May 2-4, 2016, to release their classroom-reared salmon and explore local resources. Alcona Elementary STEM (Science, Technology, Engineering and Mathematics) teacher Gail Gombos coordinated the program, which included second- through sixth-grade students exploring the Harrisville Harbor and a neighboring Michigan Department of Natural Resources (DNR) public access site. Alcona's Great Lakes exploration days were facilitated by Michigan State University Extension Sea Grant educator Brandon Schroeder, MSU Extension educator Tracy D'Augustino, Northeast Michigan Great Lakes Stewardship Initiative Network coordinator Meaghan Gass and three Huron Pines AmeriCorps members serving with the USDA Forest Service and the Northeast Michigan Great Lakes Stewardship Initiative.
Youth engaged in four hands-on explorations throughout the day: macroinvertebrate identification, fisheries exploration, water chemical analysis and a nature hike. During the macroinvertebrates session, youth learned how to use a D-Net and field scope with a well slide to find and identify various aquatic macroinvertebrates including scud, aquatic sowbugs and mayfly nymphs. Youth conducted water chemistry tests checking for ammonia, nitrate, dissolved oxygen and pH levels and talked about the importance of each, how it gets in the water and whether it is important for a healthy fresh water ecosystem.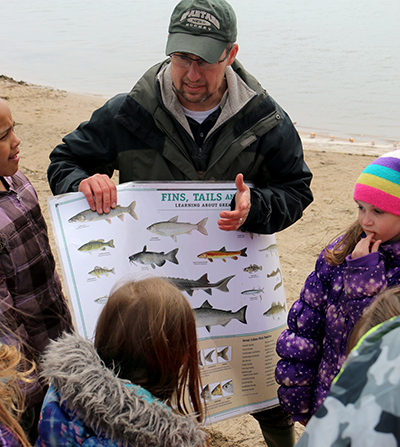 During their nature hike, youth found numerous animal and insect homes, evidence of animals and identified plants as they explored and learned about the ecosystem surrounding the Harrisville Harbor. In the fisheries session, they looked at the fish diversity in the harbor and were able to identify numerous species. Youth learned about unique adaptations and common characteristics of Great Lakes fish. For example, did you know freshwater fish have to pee almost all the time?
On May 4, sixth-grade students had additional sessions. These included a salmon habitat audit and conducting length and weight measurements of each salmon fry followed by the release of more than 150 classroom hatched and reared salmon fry. The sixth graders also talked about place-based education coupled with a conversation about youth engagement and potential projects on the grounds of the Harbor and DNR public access. This discussion was joined by two Harrisville Harbor commissioners, Mike Crick and Janet Mansfield, and DNR officer Eric Ostrander. During the conversation, community members talked with youth and explored long-term plans to positively impact both sites. They discussed the numerous opportunities including the addition of rain gardens to catch road grime from the parking lots and interpretive information for the birding trail.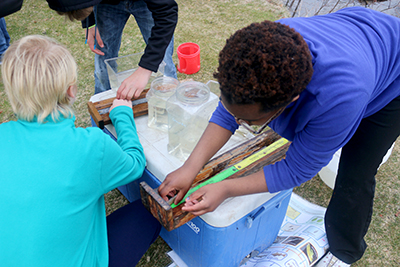 Alcona students and their STEM teacher are considering adopting the larger Harrisville Harbor area. They potentially would begin building a relationship with the DNR and Harbor Commission to empower youth to positively impact their community and meeting identified needs while addressing Michigan's educational standards. This is a relationship similar to the one the Alcona Middle School has with the DNR and Negwegon State Park. Each year, youth take a trip to Negwegon to learn about it and improve it in collaboration with the DNR.
To learn more about MSU Extension, visit the MSU Extension website. To learn more about 4-H and Extension opportunities in Alcona County, stop by our Harrisville office at 320 S. State St., Harrisville, MI 48740, or visit us online at Alcona County MSU Extension Facebook page or Alcona County Extension office page.
For more ways to share science with youth in your life, please explore the MSU Extension Science and Technology website. For more information about 4-H learning opportunities and other 4-H programs, contact your local MSU Extension office.